Heavy Hauling description
We describe a heavy hauling as the movement of large, hefty, overweight, and huge loads that go beyond the legal limitations of the road. Most states define an oversize heavy load as a shipment that exceeds:
13.6 feet in height by 8.6 feet in breadth
Gross weight of 45,000 pounds and a length of 53 feet
We make sure to offer complete licensing coverage even in states with different regulations. Heavy hauling transport service companies fill up the gaps left by regular trucking services, carrying everything from bulky building supplies to overweight military vehicles. Before beginning, most heavy haul service deliveries should be accompanied by a road plan and permit documents, but different kinds of heavy haul operations call for particular handling, permits, and road planning.
Shipping For Various Heavy Goods
Ameritrans Freight is aware of how challenging it can be to locate a company that will transport your particular load of freight. Thankfully, we  also collaborate with numerous small carriers who offer big load shipping and are dedicated to:
Safety
Accountability
Visibility
Communication Stability
Additionally, the fact that our leadership has more than30 years of logistical experience makes Heavy Haul and Oversized ideal for heavy haul shipping.
Why ship with Ameritrans Freight
We ship and handle the following
Cars
Boats
Yachts
Ocean Vessels
Ocean barges
Earth moving equipment,
Excavators
Backhoes
Tractors
Bulldozers
Oil drilling equipment
Riggs and  also any other over Size
Over dimensional Heavy Equipment hauling.
Oil and  also gas drilling equipment transportation
Badges and also oversize machinery and equipment shipping
Heavy lift Cargo, Auto transport, and also Project cargo shipping
Earth moving equipment transport
Oil and gas machinery shipping
Military equipment shipping and also reactors shipping
Turbines shipping, Boilers shipping and also Locomotives
Auto shipping
Buses
Motor homes
Travel trailers
Shipping Services for All Types of Heavy and Super Loads

The expertise required to transport such large items from beginning to end can be found with a reputable heavy haul shipping carrier. Another service that you should be able to get from your preferred carrier is strict respect to state standards for moving heavy haul freight. Thankfully, our logistics department has you covered.
With our team's expertise and contacts, we can transport your over-dimensional freight across the nation.
Heavy Equipment Hauling
Ameritrans freight offers freight handling services as well as lightweight and heavy equipment hauling. With the help of their fleet of flatbed, lowboy, and drop deck tractor-trailers, they can provide large freight and heavy equipment transporting on demand .They regularly offer also  hauling for light equipment, such as:
Scissor lifts, man lifts, forklifts, and pallet Jacks Skid Steers
Bobcat Farm Equipment
Farm machinery
Hefty forklifts
Imaginary Homes
Swing Sets Auction Equipment Back Hoe Tractors Being Hauled
For many customers, their quick and inexpensive services act as a virtual transportation department, saving them both time and money.
Oversize Load Hauling Services
Using its lowboy and drop deck truck trailers, Ameritrans Freight can also transport large pieces of machinery. These trailers are also  equipped to convey any kind of bulky machinery or cargo across long or short distances. Their heavy equipment transportation options include:
Hauling of Heavy Equipment
Heavy Load Hauling
Fire Truck Hauling
Farm Machinery Hauling
Construction Machinery Hauling
 Heavy hauling Trailers with a removable gooseneck (RGN)
We provide transportation via detachable gooseneck trailer (RGN) if your big shipment is a construction vehicle. This trailer's detachable neck makes it simple to load and unload a big vehicle while driving it on the trailer. An RGN truck is among the most popular trailers for moving big freight as a result of this distinctive characteristic.
The following are some of the additional characteristics of RGN trailers:
A second axle's capacity
Gooseneck options include mechanical and hydraulic
Hitches lessen sway and  also improve stability.
RGN trailers are steadier.
The flatbed trailer
Additionally, we can set up the flatbed trailer use for the transportation of your cargo. Due to the wide range of enormous freight that it is designed to haul, this kind of flatbed truck is very prevalent. The normal flatbed is relatively elevated off the ground in comparison to other flatbed trailer variations, which makes hauling large pieces of freight challenging.
Other big cargo can still be transported on flatbed trucks, and including the following:
Metallic frames
Horticultural supplies
Rigs for extracting oil and gas
Portable homes
The tools of agriculture
The Lowboy Trailer

Our lowboy trailer transportation services are very beneficial to shippers of extraordinarily tall heavy haul freight. The primary decks of a low-boy truck falls exceptionally low to the earth in contrast to other flatbed trailer styles. Taller pieces of cargo now have more clearance when being moved through tunnels or beneath bridges. Depending on your demands, there are a number different lowboy trailer types you can choose from:
A fixed-neck lowboy
Added axel components
Mechanically detachable lower-body goosenecks
Gooseneck lowboys with hydraulic removal
Trailers with double drop-decks
Our shipping service for double drop deck trailers is the final flatbed trailer type we can employ to move your big haul freight. A deck is located above the part of the trailer that connects to the truck on double drop deck trailers. The main deck, which comprises the majority of the trailer, is reached after the deck descends. The last deck is situated above the tires at the trailer's very end.
The advantages of double drop-deck trailers are as follows:
More space for freight storage
Multiple decks with varying lengths
Forklift access is simple
Height of tall freight pieces clearance
Container & Cargo Hauling
Ameritrans Freight offers loading, moving, and storing cargo containers. For sizes ranging from 10′ to 53′, Harding's Towing II is ready to offer comprehensive container services. Their service area is covered by their team of skilled cargo professionals, who can load, stack, haul, and also  unload shipping and marine containers.
Sea Cargo Ship Chartering
Ameritrans is a global leader in the ocean charter of heavy lift Cargo. Also in project cargo handling. We support leading clients with a fleet of multi-purpose and  also heavy lifting vessels. Our global project Cargo logistics helps charterers plan and also execute. Project cargo transportation on a voyage charter. Contract of Affreightment, a time charter, a bareboat charter. Also liner services around the world.
The Chartering fleet
Ameritrans Chartering fleet ranges from Handy size. Ships weighing between 28,000-40,000 DWT. Handymax, ships of between 40,000-50,000 DWT in weight,. Panamax, DWT of between 60,000 to 80,000 tons. Aframax Vessel Tanker, generally tankers from between 75,000 and 115,000 to DWT. Suezmax  Ship Tanker DWT of around 150,000 tons.
Charter Malaccamax
We also Charter Malaccamax, DWT of between 280000 to 300,000 tons. Cape size vessels. VLCC (Very Large Crude Carrier), supertankers between 150,000 and 320,000 DWT. ULCC (Ultra Large Crude Carrier), supertankers between 320,000 and 550,000 DWT. Seawaymax, with a DWT of between 10,000 to 60,000 tons. Bulk Vessels, Breakbulk Vessels ,Ro-Ro Vessels, Multi-purpose Vessels Tanker Vessels. Crude Carriers ,LNG Carriers and also Reefer Vessels.
Heavy Duty Service Area
Ameritrans Freight provides expert, local and long distance heavy equipment hauling in the USA. They offer fast response service all over the USA.
Since we've spent years conducting outreach in every nook and cranny of the business, it makes sense that clients choose us to terminate their protracted quest for heavy machinery transport. Transporting big, massive, and  also oversized cargo is appropriate for our heavy haul shipping services.
Based on the machine's size and weight, we evaluate each load. Heavy haul shipping businesses have to categorize their equipment and obtain the appropriate permission for overweight and oversized cargoes because various nations have different rules governing the transportation of heavy equipment. Each of our deliveries is examined before starting by an authorized load permit agency.
We can help you determine whether your shipment needs a big haul trucking specialist. For further details on your particular cargo, just get in touch with one of our friendly agents.
Cost of shipping Heavy hauling shipping
The factors that will most significantly affect cost are;
Timing
Flexibility and also preparedness to wait are essential to acquire a better delivery price and rates.
Size
Heavy hauls  come in a variety of sizes and also  designs. Your cargo will cost extra if it is significant.
shipping  method
A  heavy hauling equipment can be transported in several ways, but the three most common are driving, towing, or loading it onto a flat deck trailer.
Distance
The more extended the distance, the more different rates are required.
Heavy hauling weight restrictions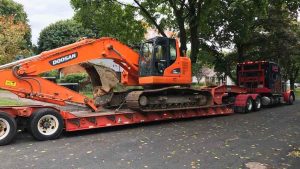 Heavy hauling  makers build their vehicles to carry specific loads. The skeletal framework of the vehicle is typically developed to support at least the largest load allowed by the highest laden axle weight for the roads being used. Oversize loads that exceed the permitted weight limitations can be transported using semi trucks and trailers. In order to transport the largest permitted weights in any situation, manufacturers build specific vehicles. For example, a truck may be designated for an overall gross vehicle weight that is far more than 80,000 pounds.
In this case, the operator is responsible for being aware of any highway and non-highway limits for the intended route of travel and also  for adhering to any legal or maximum permissible gross truck or axle group weights.
Although 80,000 pounds is the maximum truck weight allowed on any federal highway, the permissible wheel weight for just one, combination, and  also other axle combinations can vary substantially from state to state.
Heavy hauling  Handling Rules
There are limitations on large haul trucks in each state. The United States government doesn't issue permits or regulate oversize or heavy loads of cargo. Each state is in charge of keeping up its own particular set of laws.
States are in charge of issuing overloaded load licenses. Bridge inspections might be necessary as a requirement for these permits in order to ensure that bridges are adequately rated for overweight loads.
The government imposes heavy fines and penalties for everyone who breaks the law, whether they do it knowingly or unknowingly, because they spend so much money building and maintaining highways. Up to hundreds of thousands of pounds in fines, losing driving points, losing your commercial license for driving, or even going to jail might be the outcome of this. You must abide by the rules that each town has established. That applies to laws at all levels—federal, state, even local.
Weight-Related Permits
States grant permission for excessive weight. Actual excess weight-specific charges vary depending on the state. An excess weight permit, for instance, costs $20 and 6 cents per ton-mile in Tennessee. The weight limitations and taxes for large trucks vary from state to state.
According to the actual weight of the cargo, transport may be prohibited on particular days of the week and/or during specific times of the day to avoid the regular periods of heavy traffic. Although there are often fewer restrictions on how long overweight trucks can travel, it is nevertheless important to check local and state laws before transferring overweight cargo.
Overweight Load Permits
Regardless of state-specific variations in weight restrictions for different types of cargo, a permit is required to operate a motor vehicle in each of the 50 states. though the load is excessively large, even though your vehicle complies with all legal requirements, you must apply for a permit. Obtaining permissions for each state that your freight will transit through may also be necessary.
Heavy hauling companies
Because they are difficult to transport, corporations frequently ask heavy haul firms to move their vehicles. Overweight loads must adhere to numerous federal requirements in order to pass through inspection. Some shipments call for:
distinct signs
banners to load
Safety flags and  also particular illumination
A police escort or an ambulance
Before starting the operation, it is advised that any heavy haul business offer these prerequisites. Our highly qualified truck drivers will take care of these requirements and collaborate with dispatch managers across the nation to ensure even your most essential  assignments ship to their destination without issue.
To guarantee that your automobiles are delivered promptly and safely, we take all necessary precautions.
For any big haul transport, the specialized tools and equipment are sent beforehand. You may  also be sure that we're equipped to handle your largest hauls because our portfolio comprises everything from excavators and much more.
FAQs
What distinguishes line haul from heavy hauling?
Long-haul drivers are away from home for weeks at a time and log greater driving hours. Line haul drivers, on the other hand, typically leave work after each shift. Since line haul drivers work a regular schedule and also  typically get to go home at the end of the day, this type of trucking work is frequently referred to as the "nine-to-five" job.
Why does freight weight affect trailer type in heavy-duty trucking?
The "heavy haul truck" should be used when the total weight of the freight is between 65,001 and 84,000 pounds to move it. These four-axle trucks have one front axle (referred to as the "steer axle") and also  three back axles (referred to as the "drive axles").
How do you calculate haul weight?
The towing capacity of your truck can be found in the owner's manual or determined independently. Subtract your truck's curb weight from its Gross Combined Vehicle Weight Rating (GCVWR) to determine its towing capacity. The maximum weight of your loaded truck and its attached trailer is known as the GCVWR.
Why are there weight restrictions?
There are a number of reasons why trucks need to be precisely weigh and follow weight limits on public roads. The primary explanation is that the weight of the car has little bearing on how much the highway surface is damaged.
It might be claimed that bigger trucks pose greater risks to road safety. The truck's weight affects its steering response and stopping power at highway speeds. Weight limitations are put in place primarily to stop overweight vehicles from harming the nation's roadway system, which costs the government tens of billions of dollars annually to maintain and build.
There are weight limitations, but they are not applied uniformly across the country. If a truck passes the Governmental Bridge Formula test, all states are required to permit it to travel on federally designated routes and weigh up to 80,000 pounds. Many states also  allow greater weights without particular authorization.
What is heavy haul shipping?
Heavy haul shipping refers to the transport of over-dimensional or extremely large and or heavy items that cannot be shipped using traditional methods. Often times this means multiple tractors (push trucks) and  also pilot cars to safely navigate the route.
Contact us to get instant quotes for heavy healing shipping  ;
TELEPHONE NO.: +1(800)-413-2452
EMAIL: anthony@ameritransfreight.com
Website: www://ameritransfreight.com
https://ameritransfreight.com/