Ship a container to Thailand.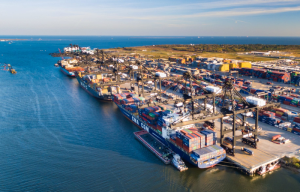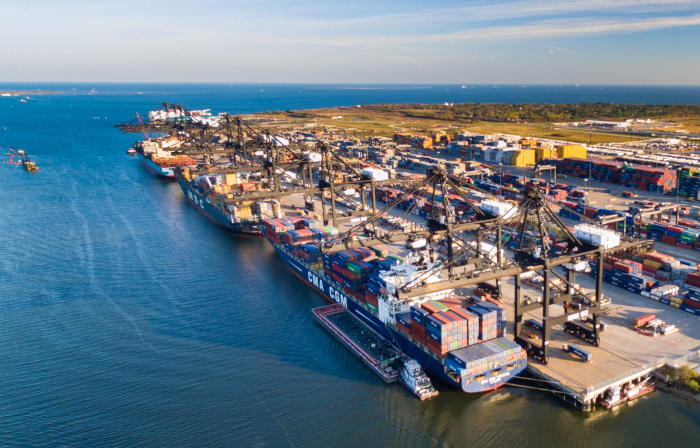 Shipping a container to Thailand. main ports can be done via container shipping services that provide the most dependable ocean freight at the lowest shipping costs. With Ameritrans Freight International offering Thailand's most dependable container shipping service, shipping a container to that country has never been simpler.
Most of Thailand's incoming air and sea freight is directed toward Bangkok. Both an airport and a port are located in the capital city. Many freight forwarders and carriers will also choose Laem Chabang, Thailand's largest coastal port, as their port of arrival.
Ship Ocean Freight to Thailand
 LCL Shipping to Thailand
Your shipment to Thailand may be transported in a shared container. Businesses with lesser loads to ship frequently use this method of maritime transportation, especially if their products cannot be transported as air freight for safety concerns.
Estimated LCL Shipping Cost to Thailand
Ideal for shipping boxes, pallets, and full container loads from 250 lbs. to 20,000 lbs.
LCL-$50.50 per CBM
Household goods-$450.00
Personal effects       $34.50
Full Container Load (FCL) shipping
FCL shipping involves paying for the usage and transportation of a container used only for your merchandise. Before being exported to Thailand, this can be loaded half or entirely with the goods and sealed. Often, it's the quickest method for moving marine freight.
Full Container Shipping Cost to Thailand
Ideal for shipping boxes, pallets, and full container loads from 250 lbs. to 45,000 lbs.
20 ft Container $400.10
40 ft Container $550.00
FCL or LCL?
When exporting ocean freight to Thailand, you must decide between FCL and LCL. Whichever option you select, your shipment will probably be transported aboard a freight ship in a 20- or 40-foot container.
FCL shipping is the best option if you want an exclusive shipping container used for your goods. The LCL services should work well for you if you don't mind having your items carried in a container with other items and your shipment isn't too big. Below, we list both modes of shipping's benefits and their drawbacks.
LCL shipping to Thailand
This is going to be a good option for your cargo headed to Thailand if one or more of these statements hold:
It's a comparatively small shipment.
Thailand doesn't need your products right away.
Your shipment is too big to be transported aboard an airplane.
Due to safety concerns, your cargo cannot be sent as air cargo.
You don't mind if other shippers' goods are housed in the same container as yours.
Although many organizations consider LCL the most affordable shipping method to Thailand, there are some drawbacks. Consolidation and deconsolidation, for instance, are logistical requirements for all LCL shipments, and you cannot choose whose commodities your cargo shares a shipping container with. Because of this, LCL could take longer than FCL, which might interfere with your deadlines.
The following scenarios are others in which LCL may not be the most suitable choice for your company:
If you are delivering extremely fragile cargo, your goods may be harmed by frequent handling and movement.
Your shipping cannot tolerate any delays.
You wish to send a shipment that would fill up an entire container.
Your products have a limited shelf life and may not arrive after a long trip in excellent shape.
You'll need to choose FCL if LCL shipping is insufficient for your needs. This method of shipping works best for:
Those that want to secure their container at the source
More substantial shipments—14 cubic meters or greater
Incompatible with shipping with other goods in the same container, fragile or heavy freight
Ocean freight costs  to ship a container to Thailand
Can shipping costs to Thailand via the ocean in 2023 decrease? Yes, the rates did start to decline gradually in the first quarter of 2023, and this trend is predicted to continue. The measurements, weight, ports of export, point of destination, season congestion, and oil prices (BAF) are considered while calculating the ocean freight rate.
Your shipping company will consider several aspects of the freight when determining the rate for your consignment:
Whether you want to travel by air, FCL ocean shipment, or LCL ocean shipping,
Your freight's size and weight
The required shipping distance for your items Your preference for a door-to-port, port-to-door, port-to-port, or door-to-door delivery service
The mode of shipment you select can also be influenced by the weight of your consignment and the shipping charges you pay.
When your goods weigh more than 100 kg, ocean shipment is the most economical choice.
What is the transit time for cargo to Thailand?
The time your items take to go to Thailand depends on how far they must journey. Air freight transportation to Bangkok typically takes one to eight days from any major worldwide airport. This will cover cargo and flight times and the time it takes to clear customs in Thailand and at your port of origin.
Your products will arrive in Thailand more slowly if you use an ocean freight company. Once more, a significant factor is the travel time from the port of origin to Thailand. Most of the time, shipments from Asian ports like Chennai, Jakarta, and China can be finished in 12 to 17 days.
It will take substantially longer to ship items from Europe; for example, it will take 39 days to ship from Hamburg. Even more, time is needed from seaports in North America; goods from Atlanta may require up to 41 days to arrive in Thailand. Your decision to ship FCL or LCL will influence all ocean transit times.
Shortest time to ship a container to Thailand
Oakland to Bangkok has an average transit time to Thailand of 15 days, making it the quickest route. The shortest routes are Tacoma to Bangkok and Seattle to Bangkok, with an average travel time of 19 days. With an average travel period of 30 to 38 days, New York, in the United States, to Bangkok, Thailand, is the next fastest port of call for shipping an ocean container to Thailand.
Longest transit times for shipping  a container to Thailand
With an estimated average travel time between 45 and 52 days, Houston, Texas, is the port with the longest or slowest transit times to transport a container to Thailand. The route Kansas City, Kansas—Bangkok, with an average travel duration of 60 days, has the longest shipping time for containers to Thailand. With an average travel time of 60 days, Norfolk to Bangkok and St. Louis to Bangkok are the next longest routes.
Main routes from  USA to Thailand
New York – Bangkok
Miami – Bangkok
Long Beach – Bangkok
Houston – Bangkok
New York – Laem Chabang
Norfolk – Laem Chabang
Savannah – Laem Chabang
Air Freight to Thailand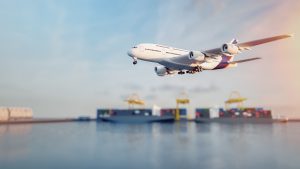 Choose air freight to deliver goods to Thailand as quickly as possible. Many freight forwarders advise using Bangkok Suvarnabhumi as their final airport for imports from any part of the nation. You can send your items to Thailand via passenger planes, cargo-only carriers, or both. The most expensive method of shipping internationally is air freight.
Air Shipping for Your Freight to Thailand
Air freight is probably your best choice if your company is more concerned with travel time than transit cost. Businesses may also take into account air shipping in the following cases:
When their shipment is only a few pallets, at most three,
Whenever they move delicate cargo
when the consignee has a pressing need for their goods
whenever the cargo is perishable
When the recipient of their shipment is located in Thailand, an international airport is more convenient than a seaport.
When they are sending expensive items and strict security is required
Roll on Roll off Service from USA to Thailand.
The Roll-Off service, or RORO shipping, is one of the most popular ways to ship a car from the USA to Thailand. With a low cost of transportation, this shipping service allows you to drive your car onto and off the ship in the USA, roll the car out, and discharge the car from the vessel in Thailand to ship your own vehicle to Bangkok port in Thailand.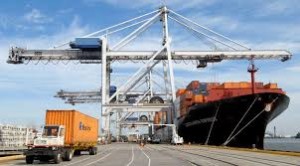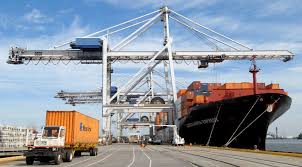 Why choose RORO for shipping cars from the USA to Thailand
This method is very effective and economical and offers the most trustworthy departure, transit time, and arrival dates to Thailand from any port in the USA, whether you need to ship a car, sedan, SUV, motorcycle, motor home, camper, trailer, bus, construction vehicle, heavy equipment, excavators, or a boat to the port of Bangkok Thailand. New automobile manufacturers frequently choose this strategy when determining how to ship their own cars abroad.
Ship a car to the port of Bangkok in Thailand from the United States
It may seem difficult to ship an automobile from the USA to Thailand, but it may go smoothly without any problems with the correct knowledge and tools. You may import an ideal and affordable vehicle from the USA to Thailand by being aware of the fundamentals of transporting cars to Thailand and selecting a reputable car transport provider.
Transit time for shipping cars from the USA to Thailand
The route from Houston, Texas, via Freeport Port to Bangkok, Thailand, with a typical transit time between 40 and 45 days, has the longest transit times for shipping a vehicle from the United States to Thailand. The next longest route, with an average transit duration of 45 to 50 days, runs from Baltimore, Maryland, to Beijing, Thailand.
The route from New York, USA, to the port of Bangkok, Thailand, with the vehicle shipping company Eukor Vehicle Carriers or NYK Auto Transport, has one of the shortest transit times to send a car to Thailand, taking an average of 35 days. With an average transit time of 25 days, this is the next quickest route from Los Angeles to Thailand.
 Factors that determine the cost of shipping a car to Thailand from the US
The cost to ship a car from the US to Thailand will vary depending on the sort of vehicle you have, its dimensions and weight, the mode of transportation to the Thai port of destination, where in the USA you intend to ship it from, and the mode of transportation you select.
Documents essential to import a car in Thailand:
A license issued in Thailand or an International Driver's ID
Commercial invoice
Packing list
Certificate of Value and Origin
Thailand Customs
fees document for the Bangkok terminal
Import Customs Clearance in Thailand
Domestic and international shipping laws must be followed while sending goods to Thailand. Numerous of these regulations are intricate, which explains why many companies employ freight forwarders to handle the job. It's a choice that your company ought to think about.
Your cargo can be delivered on time and in conformity with Thai customs laws and regulations with the help of a forwarder's experience. You will still need to provide paperwork with your shipment even if you employ a freight forwarder. Officials at the port of origin and in Thailand will demand viewing the following:
A Commercial Invoice
Packing List
An originality certificates
A Letter of Credit or alternative terms of payment
An airway bill of lading or an ocean freight bill
Your consignment may include other papers, including a permit, authorization, or certificate. In any case, illustrations of the source documents
Conclusion
Shipping goods to Thailand from all over the world is simple with Ameritrans Freight. Our website provides the occasionally complex world of global shipping with long-overdue ease and comfort. You can compare prices and receive instant quotes based on current shipping rates. Additionally, you may quickly arrange to ship goods to Thailand by sea or air using your business credit or debit card. It would help if you trusted Ameritrans Freight with all of your shipments to Thailand for the following reasons:
global logistics visibility in one location
We spare you from handling the challenges of customs clearance thanks to the knowledge of our helpful customer support team.
Your shipment will follow all applicable international laws and regulations. You can always count on the proper paperwork to be included with your shipments.
How can I transport a container of goods to Thailand?
To transport a container to Thailand, you must follow the detailed instructions from the United States. You must also give your carrier or freight forwarder all the information necessary to send your container to Thailand.
Step by step guide
Look for companies that specialize in container transportation and provide services to Thailand.
For your container transport to Thailand, ask for the shipping cost.
For the shipping of your container, pick the best shipping company.
When making a reservation (booking) to deliver your container to Thailand, provide the shipping company with the necessary documentation.
Complete Thailand's customs and export process after loading and delivering the shipping container to the point of export.
Pay the transportation provider (shipping or freight forwarding firm) for the freight and port expenses.
Send your bill of lading or container release to your customs agent in Thailand.
FAQs
How long does it take

for Shipping

a container to Thailand.?
Shipping a container to Thailand typically takes 4 to 6 weeks in transit.
Can a container from the United States be imported into Thailand with business products or moving items?
The cargo must meet the import standards of Thailand Customs to pass the import and nationalization process of goods or vehicles in Thailand. If it does, I may import a container with goods and vehicles or move home from the United States, Spain, Europe, or China to Thailand.
What benefits do Shipping a container to Thailand provide when exporting goods to Thailand?
Any form of transportable cargo may be sent.
Containers can hold a lot of stuff.
There are no shipping issues related to the weather.
Thanks to container ports across the world, more global reach
Thailand's export and import processes have been streamlined.
Options for trip frequency and schedule with transshipments.
Your shipment will arrive quickly if you choose a reputable maritime shipping route to Thailand.
More weight can be sent than with air travel.
Inside the maritime container, the cargo is safeguarded.
How do I bring a car to Thailand from the United States?
Check the paperwork required to import an automobile into Thailand.
Pay your taxes and fees in Thailand.
Pick up the vehicle or container at the terminal in Bangkok, Thailand.
Will shipping a car to Thailand by ocean freight become less expensive in 2023?
Yes, the rates started slowly declining in the first quarter of 2023, and they are expected to keep doing so. The dimensions, weight, port of export, port of destination, season congestion, and oil prices (BAF) are used to determine the ocean freight rate.