Air and ocean freight from the USA to French Polynesia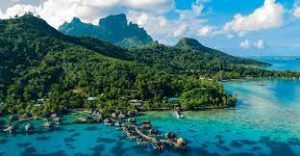 Ameritrans Freight aims to make the import and export processes simpler for importers and  also exporters because transporting goods via air and ocean freight from the USA to French Polynesia may be a challenging task
Ameritrans has  also worked with most of the biggest worldwide freight firms to provide you with the lowest prices for your freight shipping. They include Maersk Group, Mediterranean Shipping Company (MSC), COSCO CMA CGM Group, Hapag-Lloyd, and also  UPS Freight.
We contrast the prices of reputable couriers like DHL, USPS, FedEx, and also  UPS for shipping packages to Tahiti. Following that, we also  provide discounts of up to 65% on certain prices.
 Shipping to south pacific islands 
The US West Coast ports of Seattle, Oakland, and also  Los Angeles/Long Beach commonly provide ocean freight services to these islands. We provide full container loads and buyer's consolidation services to many of these islands as a global freight forwarder and Operational efficiency and  also productivity. Although less frequent, LCL services are still offered to some islands.
There are air freight flights to the major islands; contact us for more information. If you deliver more than 100 kg, we will be more affordable for air freight than if you use a courier or parcel service from the US.
We shall quickly list the nations in each Polynesian Islands, Micronesia, and Melanesia regions.
Melanesia
TShipping to Melanesia, Micronesia, Polynesia, and south pacific islands.. Fiji has seaports in Suva and Lautoka, an international airport in Nadi, Papua New Guinea, the largest seaport in Port Moresby, and the French special collectivity of New Caledonia (seaport of Noumea).
Micronesia
There are five countries in the Micronesia region: the Federated States of Micronesia, Palau, Kiribati, the Marshall Islands, and Nauru. The Northern Mariana Islands, Guam, and Wake Island are included, as are three other US territories in the northern region.
Polynesia
Few people may know that Polynesia includes both Hawaii and New Zealand. Instead, we won't pay attention to them and focus on the tiny islands that make up this group. Principal territories of this 1,000-island chain include Tokelau, Tonga, Niue, Tonga, Cook Islands, Society Island, and Easter Island.
The five distinct island chains of French Polynesia are the Society Islands (of which Tahiti and Ibiza are the two largest), the Tuamotu Archipelago, the Gambier Outlying islands, the Marquesas Islands, and the Austral Islands. There are 65 inhabited islands among the 118 that make up these five archipelagos. Papeete, the capital of Tahiti, is home to 50percentage points of the country's inhabitants, or 70% of all people in French Polynesia.
French Polynesia Shipping Connectivity
French Polynesia is a distant region with a complicated network of island chains, making shipping there occasionally difficult. The procedure is straightforward, though, if you take the proper approach.
French Polynesia comprises six different archipelagos and a total of 67 inhabited islands. Tahiti, the island with the highest population, serves as the main maritime artery for the area.
Cargoes typically arrive in Tahiti first when they are sent internationally to French Polynesia. From there, the supply is divided into smaller shipments and sent on smaller vessels to various locations in French Polynesia.
The third-largest city of Tahiti, Papeete, commonly known as Pape'ete, serves as the country's principal harbor and airport. It takes between 10 and 15 days for direct delivery from Long Beach, California, to Papeete. After this, it can take a few more days for the goods to go to their final locations.
Shipping from the US to French Polynesia typically happens between Los Angeles and Tahiti. Items are combined in a Los Angeles warehouse before being moved to Long Beach port facilities, where they are prepared for maritime shipment.
French Polynesia Couriers & Shipping Prices
French Polynesia is a collection of islands in the South Pacific, and Papeete is its main city. Evenings find food vendors lining the popular Place Vai'ete next to the harbor. The sizable Marché de Papeete market nearby offers a variety of regional foods, fish, and also  crafts. The jewelry shop and  also Robert Wan Pearl Museum highlight the regional pearl trade. The nineteenth-century Notre Dame Cathedral is also  crowned with a scarlet spire.
Shipping to French Polynesia is easy with Ameritrans's extensive selection of couriers & services. Connect your courier account or utilize our pre-negotiated prices to display the quickest, lowest, and also  greatest value delivery alternatives for each client,
Air Freight Shipment
A quick and dependable option for shipping various freight goods to and  also from French Polynesia.
Cost of Air Freight Shipping from the United States to French Polynesia
Estimated price for pallets and shipping boxes weighing up to 250 pounds to 3.500 lbs.
Min $110.00
+45 Kg $3.45 per Kg.
Above 300 Kg, $0.60 per Kg.
1000 Kg and above $0.70 per Kg
Sea Freight Shipment
The best and most economical method of shipping goods from the United States to French Polynesia
Cost of Ocean Freight Shipping Estimated to French Polynesia
Appropriate for shipping pallets, boxes, and complete container loads starting at 250 lbs. to 45.000 lbs.
20-foot containers cost $2,740.00
40-foot containers cost $4,570.00
Shipment of  Cars.
It is the nation's largest delivery network for container and RoRo ship-based shipping of boats, specialty vehicles, equipment, and automobiles.
Cost of Shipping a Car to French Polynesia
Convenient for transporting big vehicles, farming equipment, personal automobiles, and machinery.
Sedan- Request for the quote.
SUV –Request for the quote.
Sedan in a container-$3,540.00
An SUV in a container-. $3600
Sedan through RORO – Quote request.
SUV through RORO- Quote request.
Import taxes and customs fees for French Polynesia
A country's tax rate is determined by the item type, declared value, and the local GST/VAT. The tax & duty threshold determines when someone must start paying taxes on an item's claimed value.
Using the CIF technique, French Polynesia determines the import duty and taxes depending on the value of the imported products as well as the cost of shipping.
Insurance for Shipments
You must obtain the necessary cargo insurance when shipping to Tahiti and French Polynesia. To fully insure the value of your shipment, you must select marine cargo or air transport insurance.
Shipping to French Polynesia guide.
The best courier services for delivering to French Polynesia are FedEx – International Economy, Hong Kong Post – Air Mail Tracking, and USPS First Class International.
Make sure your shipments are securely packed when sending them to French Polynesia. See our manual.
The three most used e-commerce systems in French Polynesia are Magento, Shopify, and eBay.
French Polynesia accepts bank cards and cash upon delivery as forms of payment.
In French Polynesia, customers typically don't expect free shipping.
Sunday and Saturday are regarded as off-work days. On these days, there may be delays with your delivery. Additionally, public holidays are regarded as non-working days
Shipping Paperwork for French Polynesia
A lot of paperwork is necessary when shipping overseas, which can also  be complex and time-consuming. Ameritrans freight automates the generation of this paperwork for you depending on your shipment details and also , making the procedure simple.
Commercial Bill
Charge Statement
Shipping labels and tax documents
At the very least, this will need the Shipper's Letter of Instruction (SLI) and the US Principle Party of Interest (USPPI) Power of Attorney paperwork.
The necessary paperwork alters slightly if the importer in French Polynesia is organizing the passage of the goods. This situation necessitates using a Foreign Principal Party of Interest (FPPI) Power of Attorney instrument.
Shipping Restrictions & Prohibited Items in French Polynesia
Uncertain of the laws and customs of French Polynesia? It's crucial to ascertain whether any particular arrangements need to be made when sending them to French Polynesia (or any other nation) and  also whether they are even legal to send there. Visit Ameritrans to learn about shipping laws in France, Polynesia, and other nations.
Disallowed Items
Liquor
Creatures
Chemical compounds
Currency
Drugs
Explosives
Firearms
Fresh Meat
Plants
Seedlings
Nicotine
It's usually wise to verify the official customs page before mailing your goods because the list of prohibited items is subject to frequent change.
Tahiti shipping from overseas
You can ship easily, save a lot of money, and get dependable services to Tahiti at one location. You have come to the right site if you also  need to send anything to Tahiti, including documents, samples, personal things, business goods, cars, and also  heavy gear.
Air, sea, and ground Freight shipping services.
Following your needs, we also  provide the most dependable and hassle-free shipping services at affordable prices.
Compare our many options for your shipments to Tahiti, from a single envelope to containers or trucks.
Global and  also Domestic services.
Door-to-door, port-to-port, port door, or port-to-door Services.
Packages for personal or professional use include pallets, boxes, and  also other commercial items such as furniture, equipment, and  also vehicles.
Customs and taxes
Depending on the contents of your shipment, Tahiti customs duty and  also tax regulations can be complicated. Ameritrans have straightforwardly collected Tahiti customs rules.
Air Freight Shipment
Fast and dependable shipping is the best option for moving various freight shipments to and from Tahiti.
Approximated cost of Shipping Air Freight to Tahiti.
Perfect for pallets and shipping boxes weighing up to 250 pounds to 3.500 lbs.
+45 Kg- Request a quote
Above 300 Kg- Request a quote also .
1000 Kg and above – Also  Request a quote.
Sea Freight Shipment
This is the most successful and also  economical method of transporting goods from the United States to Tahiti
The estimated cost of Ocean Freight Shipment to Tahiti.
Ideal for shipping pallets, boxes, and also  complete container loads starting at 250 lbs. to 45.000 lbs.
20-foot container- request a quote
40-foot container request a quote.
Shipping to French Polynesia
The following are the typical shipping times from the USA to Micronesia and French Polynesia:
2- to 5-business-day express
Budget: six to ten business days
Polynesian culture is the way of life of the native people of Polynesia, who have similar linguistic, social, and cultural characteristics.
which seven islands make up Polynesia
seven islands make up Polynesia connecting the points of Hawaii, New Zealand, and Easter Island. The other main island groups located within Polynesia are Samoa, Tonga, the Cook Islands, Tuvalu, Tokelau, Niue, Wallis and Futuna, and French Polynesia.
Shipping cars
Ameritrans offers the greatest global delivery network for RoRo and container ship shipment of automobiles, specialty vehicles, equipment, and  also boats.
Calculated the Cost of Shipping a Car to Tahiti
It is suited for personal shipping vehicles, farm machinery, equipment and also big vehicles..
A sedan (in a container) – Request a quote.
An SUV (in a container)-Request a quote.
A sedan (RORO)-Request a quote.
An SUV (RORO)-Request for a quote.
Procedure to make the shipment to Tahiti.
Find Shipping Costs
Pick Your Service
Implement Your Shipment
Plan cargo delivery.
LCL shipping
Less than Container Load shipments can be shipped to Tahiti for a reasonable price via LCL shipping.
Estimated LCL Shipping Cost to Tahiti
Ideal for shipping pallets, boxes, and also  complete container loads starting at 250 lbs. to 20,000 lbs.
LCL Shipping-Request a quote.
Household items- Request a quote.
Personal effects –Request a quote.
Customized brokerage services consist of the following:
Calculating duties and taxes
Customs liens
Preparing for and filing a protest
Monitor liquidation-related concerns
Duty drawback mechanism
Facilitating trade solutions.
French Polynesia ocean freight consolidation services
Consolidation is necessary for sea freight transit to French Polynesia to increase efficiency and save costs. The individual shipments and commodities are delivered domestically from a place in the USA and are also  picked up at the Los Angeles warehouse. This location gathers items with other consignments traveling to French Polynesia.
When enough shipments have been gathered to fill a container, if exporting on a full container load (FCL) basis, the consignments will be delivered to the port in Long Beach. The consignments may be  also combined with other consignments headed for French Polynesia in a single container if exporting on a Less than Container Load (LCL) basis.
If you use buyer's consolidation services, you can transport smaller items to places all around French Polynesia for less money than you would with conventional FCL and LCL shipments (for example, if you need to ship from Amazon to Tahiti or elsewhere across French Polynesia).
Consolidated items are transported jointly and immediately from Long Beach to Tahiti. There are no pauses along the road.  Also  nothing will be put into or taken out of the containers while they are in transit. Upon arrival in Tahiti, the deconsolidation process starts; containers are also disassembled, and items bound for the same destinations are gathered and ready for transport over French Polynesia.
Reasons you should choose Ameritrans for your shipment from the USA to Tahiti and French Polynesia.
Our knowledgeable staff is familiar with shipping to Tahiti and French Polynesia.  It also provides expert loading for FCL buyer consolidation and LCL (Groupage) consolidation. We run our LCL Consolidation twice a month from Long Beach to Papeete and provide on-carriage services to the other French Polynesian islands. We also offer professional maritime freight services for many goods, including automobiles, motorcycles, jet skis, boats, and  also other difficult cargo.
Our colleagues in Tahiti provide french customer support and contact services and also  ready to help our clients with any customs and  also logistics issues at the location. We are also  committed to excellent communication and transparency.  As we meet your demands. Get in touch with our staff immediately for additional information and also  a quote.
FAQS
Does shipping depend on the weight or size?
Usually, couriers charge for their services based on package size or weight, whichever is greater. The "Volumetric Weight" computation is used to determine this. The only exception is flat rate services, which impose a fixed fee for mailers who use particular boxes. In those circumstances, the cost would be the same whether you are shipping a box of concrete or feathers.
Which Tahitian traditions are there?
The French Polynesian music, dance, and art traditions first emerged in Tahitian society. This is  where they have flourished ever since. In Tahiti's culture, men participated in canoe races and  also stone lifting as displays of raw strength. Also javelin throwing was first practiced as a sport of the gods. Kings also enjoyed surfing.
Is Polynesia still a part of France?
According to the 2004 Organic Law, French Polynesia is a territory of France that enjoys a high degree of autonomy (2004-192). There are five islands (Society, Tuamotu, Marquesas, Gambier, and also  Australs). The size of Europe is  also roughly equal to the area of French Polynesia, which spans more than 5.3 million square kilometers.
How long will shipping from the United States to Tahiti take? 
Transit times on average from the USA to Tahiti
 packages: 1 to 3 days
Shipping by air: 2 to 5 days
Shipping by Ocean: 3 to 5 weeks
Does USPS ship to French Polynesia?
All items admissible in international mail to French Polynesia, including correspondence, business papers, and also  merchandise, are essential  in Priority Mail Express International.
Which seven islands make up Polynesia?
Drawing a line from Hawaii, New Zealand, and also  Easter Island creates the Polynesian Triangle. Samoa, Tonga, the Cook Islands, Tuvalu, Tokelau, Niue, Wallis and also  Futuna, and also  French Polynesia are the other major island nations in the Polynesian Triangle.
Please get in touch with us at (800) 413 2452 or request a quote at anthony@ameritransfreight.com
https://ameritransfreight.com/shipping-to-melanesia-micronesia-polynesia-and also -south-pacific-islands/
Shipping to Melanesia, Micronesia, Polynesia, and south pacific islands.