Ship to South Africa with Ameritrans Freight International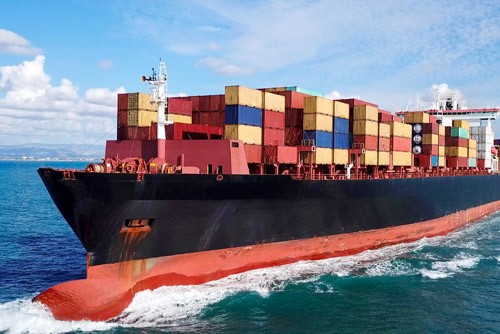 We are the only ones that fully comprehend Cost to South Africa. Our company is committed to providing exceptional service for a portion of the price charged by the competitors. For cargo delivery to South Africa, we provide the most affordable prices. We can help you find the most affordable shipping to South Africa if you need to send cheap cargo there.
Our knowledgeable staff will create the ideal shipping strategy to meet your objectives. We have the ideal plan for you and your business, no matter what you are transporting to South Africa—freight or just a car.
With our years of knowledge, we can guide you through the complexities of the global shipping industry with minimal inconvenience.
You can depend on us to ensure that your delivery arrives on time when you need to send a package to South Africa.
Are you aware that shipping with us instead of a direct carrier saves you around 80% on shipping costs?
This is because Ameritrans Freight International receives preferential pricing due to our strategic partnerships with global leaders in the industry, including FedEx, DHL, and UPS, which offer us these low costs on a volume basis. I can provide you with the most affordable method of shipping a shipment to South Africa as a result. This is assurance  regardless of your cargo type, whether for moving or individual boxes. When you ship from the USA to South Africa, our crew has qualification  to help you at each stage and provide the relevant details. We have you prepared in every scenario!
The cheapest way of shipping to South Africa 
Depending on volumetric weight and the distance your shipment will have to go, we give you the most affordable rates for shipping to South Africa. By figuring out the volumetric weight—the amount of room your cargo will take up on an airplane, ship, or van—you can figure out how much it will cost to send from the United States to South Africa. Enter the package's length, breadth, and height to accomplish this in seconds. Allow entry to our low discounted prices and take advantage of our affordable shipping to South Africa.
Shipping a Less than Container Load (LCL) to South Africa
If your cargo is one of these, LCL is the best ocean shipping option for you:
• Small in scale or number
• Neither fragile nor delicate
• Ideal for frequent handling or mobility
• Consolidation-ready for other cargo
Estimated cost for LCL Shipping
Shipping boxes, pallets, and less than container loads from 250 lbs. to 20.000 lbs.
LCL- $90.30 per CBM
Household goods- $800
Personal effects $580.00
Full container load (FCL) shipping to South Africa
FCL might be a better choice, though, if your cargo is:
• Hefty, large, big, or obese
• Delicate, fragile, or perishable
• Safer when alone
• Not designed for constant handling and movement.
• Estimation  to arrive in South Africa in a shorter amount of time
Bulk Break shipping to South Africa
Your freight forwarder may suggest break bulk shipping if your goods are too large to fit in a single container. Your items have packages in form of  containers and shipment  takes place using this method.
Cost of shipping goods to South Africa
Several factors will affect how much your package will cost to send to South Africa. They comprise:
• Products you are sending
• The shipping service of your choosing (LCL or FCL)
• The mass of your cargo
• Size of your cargo
• Distance between your starting port and your final destination
• Kind of movement (door-to-door, port-to-port, port to door and door-to-port)
Get a quote from your freight forwarder if you need a more precise estimate of your shipping expenses.
Ocean Freight Shipping Cost to South Africa
Shipping boxes, pallets, and full container loads from 250 lbs. to 45.000 lbs.
• 20 ft Container $1,700
• 40 ft Container $2,300
Transit time when shipping to South Africa
Your cargo's transit time will also rely on many other variables, such as the distance between your origin nation and South Africa, the ship's itinerary (whether direct or with many stops), and the type of ocean freight shipping you choose.
The time it takes for your package to reach South Africa can range from three to 64 days. The transit times from American ports
Longest route to South Africa
The Charleston-Durban route takes an average of 64 days and has the longest travel time for shipping containers to South Africa. The longest routes are Baltimore to Durban, which takes 64 days on average, and Norfolk to Durban, which takes 62 days on average.
Algeciras to Durban is the quickest route, taking, on average, 21 days.
Customs
A customs form must always be completed if you ship goods to South Africa. All the necessary information regarding your package is on the customs form. This will cover the contents of your package, the destination, and why you are delivering it in the first place.
Using this, you can determine your taxes and whether you deliver any illegal items. We take into account a variety of criteria when calculating your taxes. Shipping items for resale will result in greater taxes than shipping items for personal use. However still, you can charge extra taxes if you send expensive goods.
Your items must pass customs clearance before acceptance in South Africa. You must submit several necessary documents as part of this process, including:
• Bill of lading or airway bill,
• Origin-based certificates
• Import permits
• Commercial invoice
• Packing list
Prohibited goods
Any country to which you ship requires you to be conversant with its list of illegal materials. The website for their customs offers easy access to many of these. Confiscation of your box when you ship something that is forbidden, and you may  also even face legal action. Always research and never guess what is illegal to avoid this trouble.
For instance, some nations have outright prohibited foreign calendars and specific works of literature. The idea is that you shouldn't assume that something must be unsafe or dangerous to be on the list of prohibited products. Most goods on some nations' prohibited items list are largely economic.
Procedure for shipping cargo to South Africa
We advise you to work with a freight forwarder because shipping cargo to South Africa is complicated. You can get assistance from your freight forwarder with scheduling your shipment, fulfilling customs regulations, and more.
Your products will be put together with other consignments in the container port if you choose LCL as your preferred method of ocean transport. FCL does not demand this procedure. Then, all shipments are put into the ship and fumigated to eliminate bugs, vermin, and  other dangerous organisms.
The items will go through clearing customs when they arrive at the destination port in South Africa. The correct paperwork will make this process quick and simple. Your items are available for pickup in the final port after customs clearance. The delivery of your time depend on  to the address you specify if you choose a transportation mode, including door-to-door or port-to-door.
Ship an automobile from the USA to South Africa
It's simpler than you would think to ship an automobile from the USA to South Africa! Especially if you work with Ameritrans Freight, the leader in the field. Request our assistance as you move through this process; we are delighted to offer this comprehensive guide. We bring nearly four decades of experience, meticulous attention to detail, and expertise at all levels.
Get a free estimate right away. Just let us know your car's year, make, and model, the pickup zip code or departure port, and the destination nation—in this case, South Africa.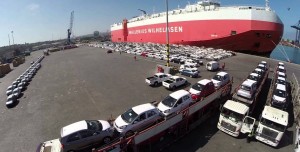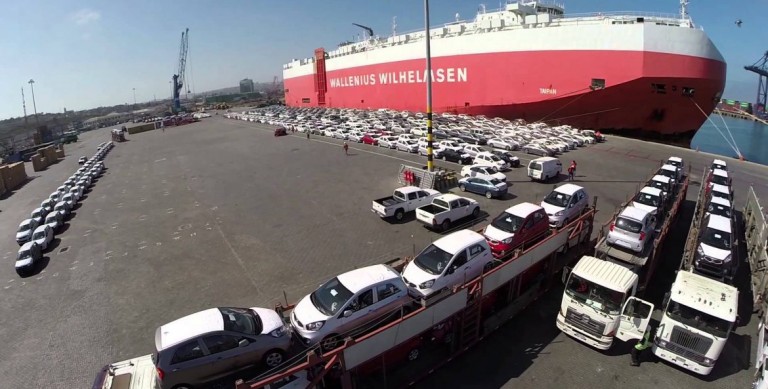 The base cost to ship an automobile to South Africa from any of the three U.S. ports is $1,975. Remember that it's possible that this isn't the final cost. These and  also other elements could also change your price.
Your total cost could vary depending on the following:
• The region of the U.S. where your car is leaving.
For instance, it is less expensive to ship from the East Coast than the West; therefore, leaving from Freeport, Texas, will be more expensive than leaving from Baltimore, Maryland.
• The mode of transportation you select.
Some people can drive themselves to the departing port because they live nearby. This is a more affordable choice. Some clients also hire truckers to transport their vehicle from their residence to the port since they live far away from the closest port. This alternative is more expensive.
• The dimensions of your car.
Shipping a vehicle or SUV will cost more than shipping a tiny car because they are both larger vehicles.
Approximated Car Shipping Cost to South Africa
Shipping personal cars, farming equipment, machinery, oversized vehicles, etc.
• Sedan -Request
• SUV -Request
• Sedan (in-container)- $2,500
• SUV (in-container)- $2,650.00
• Sedan via RORO Request
• SUV via RORO – Request
Roll-On/Roll-Off (RoRo) shipping
RoRo shipping is a smart alternative if your car is still drivable and you intend to send only one vehicle to South Africa. There is no other option. But you'll be happy to learn that this is probably the most well-liked, economical, and successful way to ship a car. Also, you receive trustworthy arrival and departure dates and also  weather protection for your car. All cars have security to the deck and shielded from the ocean's water and air.
Wheeled vehicles such as motorbikes, cars, motorhomes, campers, trailers, buses, construction equipment, and boats can all be transported using this practical and cost-effective option.
Roro is a good move for transporting a vehicle to South Africa. All vehicles are tethered to the platform without access to the sea, so your car is protected from the elements. Also, it is more reliable than container shipping in terms of arrival and departure dates
Container shipping to South Africa
This means that your planning will be more challenging because it's likely that you will have to wait an extra week for the container fill with the remaining cars. There's no assurance of a set departure date, unlike with Roro, because every container package with automobiles to be put aboard the container ship. You are best off using this route if you are transporting two or more cars.
You can transport goods in the trunk or backseat of your car while shipping your automobile inside a container alongside three other vehicles and also  get protection from the weather. Another benefit? Even non-operational automobiles can be shipped.
High-end and exotic cars like Fancy cars, Range rover sand  and also  Aston Martins are best  in certain containers, which  also ensures that your vehicle is the only one in the container. This is due to the additional security and care you gave during shipment. It's also a smart choice if you transport items in your automobile.
RORO Vs. Container shipping to South Arica from the USA
Comparatively speaking, shared and RoRo container shipping are less expensive than exclusive container shipping. But, when you have a sizable budget and also  great car that you can't risk , you'll want to pay a little bit more for the extra peace of mind. One can still employ this choice if your car isn't running.
Air Freight Shipping to South Africa
Ameritrans Freight International Air Freight Shipping is available. We provide airport-to-airport and door-to-door international air freight shipping services to South Africa. For your shipments to South Africa, Ameritrans Freight offers the most trustworthy worldwide air freight shipping services with the most affordable shipping costs. The typical air freight travel time to South Africa is 2 to 4 working days.
Estimation of Air Freight Shipping Cost to South Africa
Shipping boxes and pallets from 250 lbs. to 3.500 lbs.
• Minimum -$30.00
• 45 Kg and above -$2.50per Kg.
• 300 Kg and above-$2.0 per Kg.
• One thousand and above Kg -$1.75 per Kg.
FAQs
1. What kind of freight can be shipped in a container?
You have more chance to be exposed to the kind of goods you can ship since containerization needs sea freight as the method of shipment. Also you can  send whatever items you need because ocean freight has fewer restrictions than air freight.
The only caveat is that you must be mindful of the items South Africa restricts and forbids importation. If not, you can have issues with customs. Before a certain kind of product can be imported into South Africa, further authorizations, permissions, or certifications may be needed.
2. What are the major container ports in South Africa?
Durban port
South Africa's largest and also busiest port is the Port of Durban. 61% of Africa's revenue comes from this port, also known as Durban Harbor, which boasts the fourth-largest container terminal in the South. MSC Cruises SA is the owner. Yearly Container Volume is 4.5 million TEUs
Port of Capetown
The Port of Capetown is situated along one of the busiest commercial routes in the world in Table Bay, South Africa. As a result, it is regarded as one of the busiest harbors in the country. Fruits are the most common items handled at the Port of Cape Town. Transnet State Ports Authority is the owner. Every year Container Volume is over 719,825 TEUs
Port of Elizabeth
The most populous city in South Africa, Eastern Cape, is where the Port of Elizabeth is situated. It is also   significant seaport situated in a major commercial, financial, and also  cultural hub.
APM Terminals owns it. The company's annual container volume is over 2.3 million TEUs. Cruises S.A.'s annual container volume is over 4.5 million TEUs.
3. How much space in a container do I require for my shipment?
Ocean shipping containers are available in various sizes, from 20 ft to 40ft H.C. containers. The following sizes are available at most ports:
20 ft equals 33.2 CBM
Regular 40 foot – 63.5 CBM
76.4 CBM in a cube 40 feet high.
The size and amount of your items will determine the container capacity you select. However, if you choose LCL, we also  advise that your items not take up more than half of the container area. Instead, your shipping expense would be roughly equivalent to an FCL shipment, making it more cost-effective to use an FCL shipment.
4. Is Marine Insurance Necessary?
Although we don't require it, we do suggest it. It will be coverage  for theft, vandalism, damage, and total loss with FULL coverage up to 1.75% of the vehicle's worth and a $500 deductible. Once your car loading o aboard to ship, coverage begins and also  lasts until  pick up  up and signing . Complete Loss is a charge of 1.25% of the vehicle's worth.
You can  also choose all 50% to 70% of worth if you believe that Insurance is too costly to insure your vehicle fully. Any damage above the amount you are covered for, however, would be your responsibility to pay for.
What Paperwork Is Essential  to Export a Vehicle to South Africa?
Certain papers are essential to send a car to South Africa: These are Authentic Title and also  I.D.
Conclusion
Shipping to South Africa from the U.S. need not be difficult with Ameritrans Freight International. You can easily ship your cargo there if you have the right team.
Not all shipping companies are  equally. No one can provide you with the level of professionalism and  also experience we possess if you need to ship a shipment to South Africa. We simplify freight shipment to South Africa more than before.
Nobody wants their cargo to end up in detention because they choose an unreliable transportation company. Our friendly crew is skilled at navigating the intricate aspects of the global transportation industry.
Allow us to help you avoid stress and save money. We also  provide the greatest customer service and also  the most affordable rates for international delivery. Call or email us immediately to begin saving money when shipping to South Africa.
https://www.shopify.com/za/blog/epacket-delivery-explained-everything-you-need-to-know-about-epacket-shipping
anthony@ameritransfreight.com
+1(800)-413-2452
https://ameritransfreight.com/shipping-to-south-africa-from-usa/