Air Freight Shipping from USA and Air Charter Services :
Ameritrans Freight International offers high quality Air freight Shipping, International Air Cargo rates and Air cargo charter services from anywhere in the USA and Canada to worldwide destinations. We are among the few Air freight Companies that provide state of the Air Cargo tracking services worldwide.
As a world leader, Ameritrans Freight International provides a strong and international network for all of your air Cargo shipping and Air freight cargo needs, with guaranteed and prompt Air freight tracking services, backed by reputable Airline Partners and  Air Cargo carriers.
Our Air freight rates and Air cargo rates are very competitive and covers Air cargo international from the following USA  Airports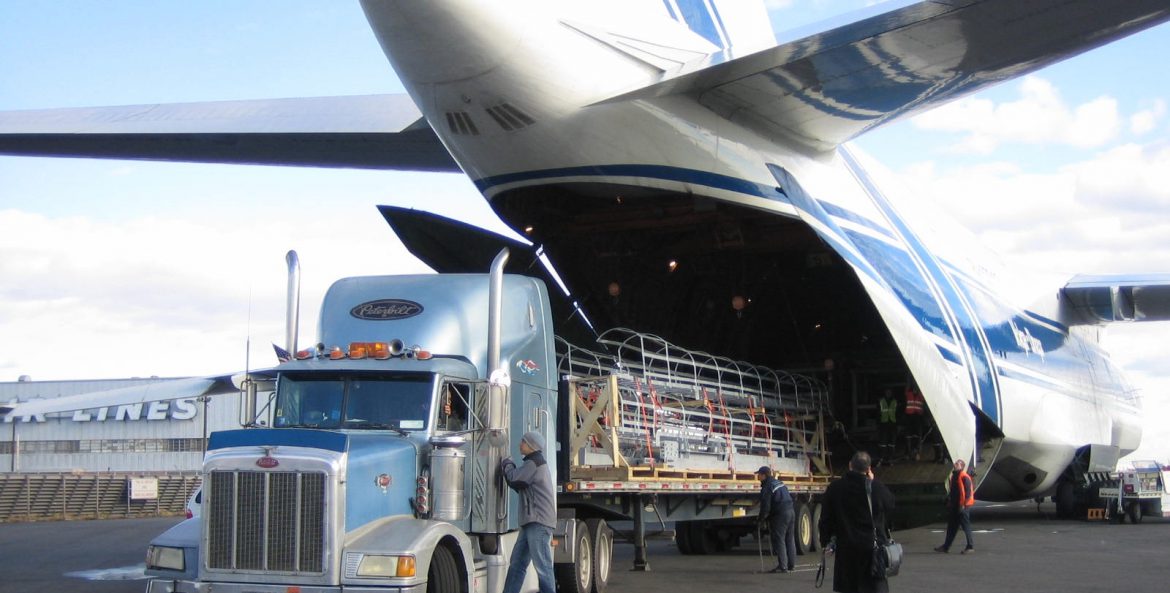 Air Cargo From Major Airports in USA to Other International Destinations :
Our main Air Cargo shipping hubs from USA to and from the below International Airports are:
Dallas/Fort Worth International Airport (DFW), Texas.
Cincinnati/Northern Kentucky International Airport (CVG), Ohio.
Los Angeles International Airport (LAX), California.
Indianapolis International Airport (IND), Indiana.
Miami International Airport (MIA), Florida.
Chicago O'Hare International Airport (ORD) Illinois.
Louisville International Airport (SDF), Kentucky.
Ted Stevens Anchorage International Airport (ANC), Alaska.  year.
Memphis International Airport (MEM), Tennessee
John F Kennedy International Airport New York (JFK)
Hartisfield- Jackson Atlanta International Airport, GA (ATL)
Dulles International Airport Washington DC  (WAS)
George Bush International Houston, TX  (IAH)
Seattle-Tacoma International Airport  (SEA)
Canada Air cargo freight hubs are located in :
Toronto (YYZ),
Montreal, QC  (YMQ),
Halifax,  (YHZ),
Vancouver, BC (YVR) 
Calgary, AB (YYC)
International Air Freight Shipping to Other Worldwide Airports :
Ashgabat, Turkmenistan (ASB), Asmara, Eritrea (ASM) Astana, Kazakhstan (TSE), Asuncion, Paraguay (ASU), Athens, Greece (ATH), Auckland, New Zealand (AKL), Augsburg/Munich, Germany (AGB).
Bahrain, Bahrain (BAH), Baku, Azerbaijan (BAK), Bamako, Mali (BKO), Bandar Abbas, Iran (BND), Bangalore, India (BLR), Bangkok, Thailand (BKK), Banjul, Gambia (BJL), Bangui, Central African Republic (BGF), Barcelona, Spain (BCN), Barranquilla, Colombia (BAQ), Basel, Switzerland (BSL), Beijing, China (PEK), Beirut, Lebanon (BEY), Belfast, Northern Ireland, United Kingdom (BFS), Belgrade, Serbia and Montenegro – Beograd (BEG), Belize City, Belize – International (BZE), Benghazi, Libya (BEN).
Berbera, Somalia (BBO), Bergen, Norway (BGO)Berlin, Germany – All airports (BER), Bermuda, Bermuda (BDA), Birmingham, United Kingdom (BHX), Bishkek, Kyrgyzstan (FRU), Bissau, Guinea-Bissau (OXB), Blantyre, Malawi (BLZ), Bogota, Colombia (BOG), Bonn, Germany (BNJ), Bora Bora, French Polynesia (BOB), Bordeaux, France (BOD), Brasilia, DF, Brazil (BSB).
Air Freight International Shipping:
Bratislava, Slovakia (BTS), Brazzaville, Congo (BZV), Bremen, Germany (BRE), Bridgetown, Barbados (BGI), Brisbane, Queensland, Australia (BNE), Bristol, United Kingdom (BRS), Brussels, Belgium – National (BRU), Bucharest, Romania, Otopeni International (OTP), Budapest, Hungary (BUD), Buenos Aires, Argentina – Jorge Newbery (AEP), Bujumbura, Burundi (BJM), Busan, South Korea, Gimhae (PUS).
Cairo, Egypt (CAI), Calcutta, India (CCU), Canberra, Australia (CBR), Cancun, Mexico (CUN, Cap haitien, Haiti (CAP), Cape Town, South Africa (CPT), Caracas, Venezuela (CCS), Cartagena, Colombia (CTG), Casablanca, Morocco, Anfa (CAS), Cayenne, French Guiana (CAY), Cebu, Philippines – Matan International (CEB), Chennai, India (MAA), Chisinau, Republic of Moldova (KIV), Chittagong, Bangladesh (CGP), Christchurch, New Zealand (CHC).
Ciudad Bolivar, Venezuela (CBL), Cologne, Germany – Cologne/Bonn (CGN), Colombo, Sri Lanka (CMB), Conakry, Guinea (CKY), Constanta, Romania (CND), Copenhagen, Denmark (CPH), Cork, Ireland (ORK), Curacao, Netherlands Antilles (CUR).
Air Cargo Freight Rates from USA to the following Airports :
Da Nang, Viet Nam (DAD), Dakar, Senegal (DKR), Damascus, Syrian Arab Republic (DAM)Dammam, Saudi Arabia (DMM), Dar Es Salaam, Tanzania (DAR), Delhi, India (DEL), Denpasar Bali, Indonesia (DPS), Dhaka, Bangladesh, Zia International (DAC).
Dominica, Dominica -Douglas–Charles , Melville Hall (DOM), Dortmund, Germany (DTM)Dubai, United Arab Emirates (DXB), Dublin, Ireland (DUB), Durban, South Africa (DUR)Dushanbe, Tajikistan (DYU), Dusseldorf, Germany – International (DUS), Dzaoudzi, Mayotte (DZA).
Ebon, Marshall Islands (EBO), Edinburgh, United Kingdom (EDI), Fort De France, Martinique (FDF), Fortaleza, Brazil (FOR), Frankfurt, Germany – International (FRA), Freeport, Bahamas (FPO), Freetown, Sierra Leone – Lungi Intl (FNA), Gaza City, Occupied Palestinian Territory (GZA), Geneva, Switzerland (GVA), Genoa, Italy (GOA), Georgetown, Guyana (GEO).
Gibraltar, Gibraltar (GIB), Glasgow, United Kingdom – Glasgow International (GLA), Goa, India (GOI), Gothenburg, Sweden – Landvetter (GOT), Grand Cayman, Cayman Islands (GCM)Grenada, Grenada, (GND), Guam (GUM), Guatemala City, Guatemala (GUA), Guayaquil, Ecuador (GYE), Guernsey, United Kingdom (GCI), Haifa, Israel (HFA)
Haiphong, Viet Nam, Catbi (HPH), Hamburg, Germany, Fuhlsbuettel (HAM), Hamilton, Bermuda (BDA), Hanover, Germany (HAJ).
Air Freight and Air cargo Schedule to :
Harare, Zimbabwe (HRE), Hargeisa, Somalia (HGA)Havana, Cuba (HAV), Helsinki, Finland (HEL), Hiroshima, Japan – International (HIJ), Ho Chi Minh City, Viet Nam (SGN), Hobart, Australia (HBA), Hodeidah, Yemen (HOD), Hong Kong, Hong Kong (HKG), Honiara, Solomon Islands (HIR), Hyderabad, India (HYD).
Ibiza, Spain (IBZ), Ilulissat, Greenland (JAV), Iquique, Chile (IQQ), Islamabad, Pakistan (ISB)Isle of Man, United Kingdom (IOM), Istanbul, Turkey (IST), Izmir, Turkey (ADB), Jakarta, Indonesia (CGK), Jeddah, Saudi Arabia (JED), Jersey, United Kingdom (JER).
Kabul, Afghanistan (KBL),Khartoum International Airport (KRT), Kano, Nigeria (KAN), Karachi, Pakistan – Quaid-E-Azam International (KHI), Kathmandu, Nepal (KTM), Kiev, Ukraine, Boryspil (KBP), Kigali, Rwanda (KGL), Kilimanjaro, Tanzania (JRO), Kingston, Jamaica – Norman Manley (KIN), Kingston, Jamaica, Tinson pen Aerodrome (KTP), Kinshasa, Congo (FIH), Kolkata, India (CCU).
La Paz, Bolivia (LPB), Lagos, Nigeria (LOS), Lamu, Kenya (LAU), Larnaca, Cyprus (LCA), Luanda, Angola (LAD), Le Havre, France (LEH), Leeds, United Kingdom (LBA), Leipzig, Germany (LEJ).
Libreville, Gabon (LBV), Lilongwe, Malawi (LLW), Lima, Peru (LIM), Lisbon, Portugal (LIS, Liverpool, United Kingdom (LPL),London, United Kingdom – All airports (LON), London, United Kingdom – Gatwick (LGW), London, United Kingdom – Heathrow (LHR), Luanda, Angola (LAD), Lusaka, Zambia (LUN), Luxembourg, Luxembourg (LUX), Luxor, Egypt (LXR).
Air Freight Quote to :
Maastricht, Netherlands (MST), Macau, China (MFM), Mahe Island, Seychelles (SEZ), Majuro, Marshall Islands (MAJ), Malabo, Equatorial Guinea (SSG), Male, Maldives (MLE)Malmo, Sweden (MMX), Malta, Malta (MLA), Managua, Nicaragua (MGA), Manchester, United Kingdom (MAN), Manta, Ecuador (MEC), Maputo, Mozambique (MPM), Maracaibo, Venezuela (MAR), Mariupol, Ukraine (MPW), Marseille, France (MRS).
Mauritius, Mauritius (MRU), Melbourne, Victoria, Australia (MEL), Mogadishu, Somalia (MGQ), Mombasa, Kenya (MBA), Monrovia, Liberia (ROB), Montego Bay, Jamaica (MBJ), Monterrey, Mexico (MTY), Montevideo, Uruguay (MVD), Montpellier, France (MPL).
Montserrat, Montserrat (MNI), Moscow, Russia – all locations (MOW), Moscow, Russia – Sheremetyevo (SVO), Mumbai, India (BOM), Munich, Germany (MUC), Muscat, Oman (MCT).
International Freight shipping and Air Freight Tracking to :
Nadi, Fiji (NAN), Nagasaki, Japan (NGS), Nagoya, Japan (NGO), Nairobi, Kenya – Jomo Kenyatta Intl (NBO), Nairobi, Kenya – Wilson (WIL), Naples, Italy (NAP), Nassau, Bahamas – International (NAS), Nauru Island, Nauru (INU), Niamey, Niger (NIM), Niuafo'ou, Tonga (NFO), Ndjamena, Chad (NDJ), Nouakchott, Mauritania (NKC), Noumea, New Caledonia – Tontouta (NOU), Nuku'Alofa, Tonga (TBU), Nuremberg, Germany (NUE), Nuuk, Greenland (GOH).
Odessa, Ukraine (ODS),Osaka, Japan – all airports (OSA), Oslo, Norway (OSL), Ouagadougou, Burkina Faso (OUA).
Pago Pago, American Samoa (PPG), Palermo, Sicily, Italy (PMO), Palma Mallorca, Spain and Canary Islands (PMI), Panama City, Panama – Tocumen Intl (PTY), Papeete, French Polynesia (PPT), Paramaribo, Suriname – Zanderij Intl (PBM), Paris, France – All airports (PAR), Paris, France – Charles De gaulle (CDG), Pemba, Tanzania – Wawi (PMA), Perth, Western Australia, Australia (PER).
Peshawar, Pakistan (PEW), Phnom Penh, Cambodia (PNH), Phuket, Thailand (HKT), Pointe Noire, Congo (PNR), Pointe-a-Pitre, Guadeloupe (PTP), Port Au Prince, Haiti (PAP),Port Gentil, Gabon (POG), Port Harcourt, Nigeria (PHC), Port Moresby, Papua New Guinea (POM, Port of Spain, Trinidad (POS),Port Stanley, Falkland Islands (PSY), Port Sudan, Sudan (PZU, Port Vila, Vanuatu (VLI), Prague, Czech Republic (PRG), Praia, Cape Verde (RAI), Puerto Plata, Dominican Republic (POP), Pyongyang, North Korea (FNJ).
International air cargo rates to :
Qingdao, China (TAO), Quito, Ecuador (UIO), Rabat, Morocco (RBA), Rarotonga, Cook Islands (RAR), Ras Al Khaimah, United Arab Emirates (RKT), Reykjavik, Iceland (KEF), Riga, Latvia (RIX), Rijeka, Croatia (RJK), Rio De Janeiro, RJ, Brazil (GIG), Riyadh, Saudi Arabia (RUH).
Rome, Italy – All airports (ROM), Rota, Northern Mariana Islands (ROP), Rotterdam, Netherlands (RTM), Saint Croix, U.S. Virgin Islands (STX), Saint Lucia, ST. LUCIA (SLU), Saint Maarten, Netherlands Antilles (SXM), Saint Petersburg, Russia – Pulkovo (LED), Saint Thomas, U.S. Virgin Islands (STT),San Jose, Costa Rica – Tobias Bolanos Int'l (SYQ).
San Juan, Puerto Rico (SJU), San Pedro Sula, Honduras (SAP), San Salvador, El Salvador (SAL), Sana'a, Yemen (SAH), Santiago, Chile (SCL), Sao Paulo, Brazil Congonhas – Sao paulo (CGH), Sao Tome Is., Sao Tome and Principe (TMS), Semarang, Indonesia (SRG), Seoul, South Korea – All Airports (SEL), Seoul, South Korea, Incheon International (ICN), Shanghai, China (PVG).
Sharm El Sheikh, Egypt (SSH),Shenzhen, China (SZX), Singapore, Singapore – Changi (SIN)Sofia, Bulgaria (SOF),St. Croix Island, U.S. Virgin Islands (STX), St Denis de la Reunion, Reunion (RUN), St Kitts, St Kitts and Nevis (SKB), St Vincent, Saint Vincent and the Grenadines (SVD), St. Lucia, St. Lucia – Hawnorra (UVF), St. Lucia, St. Lucia (UVF) st. Petersburg, Russia (LED), St. Thomas Island, U.S. Virgin Islands (STT).
Stockholm, Sweden – All airports (STO), Stuttgart, Germany, Echterdingen (STR) Surabaya, Indonesia (SUB), Suva, Fiji (SUV), Sydney, New South Wales, Australia (SYD), Taipei, Taiwan, Chiang Kai-shek (TPE).
Air Freight Costs Per Kg to :
Tallinn, Estonia (TLL), Tamatave, Madagascar (TMM), Tangier, Morocco (TNG), Tarawa, Kiribati (TRW), Tbilisi, Georgia (TBS),Tegucigalpa, Honduras (TGU), Tehran, Iran – Mehrabad (THR), Tel Aviv, Israel (TLV), Tenerife, Spain and the Canary Islands – Sur Reina Sofia (TFS).
Tianjn, China (TSN), Tirana, Albania (TIA), Tobago, Trinidad and Tobago (TAB), Tokyo, Japan – All airports (TYO), Tortola, British Virgin Islands (TOV), Tunis, Tunisia (TUN), Ulaanbaatar, Mongolia (ULN).
Varna, Bulgaria (VAR), Vava'u, Tonga (VAV), Venice, Italy – Marco Polo (VCE), Vienna, Austria (VIE), Vientiane, Laos – Wattay (VTE), Vilnius, Lithuania (VNO), Vladivostok, Russia (VVO), Wellington, New Zealand (WLG), Xiamen, China (XMN), Zagreb, Croatia (ZAG), Zanzibar, Tanzania – Kisauni (ZNZ), Zurich, Switzerland (ZRH).
Commodities Shipped by Air Cargo Logistics :
Air transport World is a quick and reliable means of transport for many commodities ranging from Cars, Personal Effects and Household goods, Dangerous Goods, Artwork, Machinery and Consumer Goods to Perishable Foods among others. Ameritrans Freight is one of the Air Freight Companies with the best Air freight rates in the USA and Canada.
Air Cargo Charter Services from USA to International Airport destinations :
Ameritrans has Air charter service capability to handle heavy, outsize and oversize cargo, dangerous goods, Urgent and emergency cargo, Oil and gas equipment, High value commodities, Aerospace equipment, Humanitarian and relief cargo and cargo to remote destinations.
We evaluate the route for cargo air charter, payload and timescale to enable us give the most convenient aircraft for all your cargo specification and Air transport international. We offer innovative solutions for back loads, commercial part-charters, ad hoc and peak season requirements as well as project cargo.
We have very good state of the Art  Air Cargo Freight tracing capabilities worldwide. We tailor make  air charter international, Charter cargo flights and Air charter broker which we Air Partner with charter private jets for Air Cargo.
The Impact of Covid-19 Pandemic on Air Cargo Industry :
The COVID-19 pandemic is a humanitarian and health crisis and as well as an economic shock affecting the state of air cargo and global trade. The COVID-19 pandemic has negatively affected the air cargo capacity due to the reduction of cargo volume transported overseas. The changes in the air cargo industry require the application of flexible approaches to deal with the problems. A reliable supply and demand are being restored during the post-COVID-19 era. At the start of COVID-19, there was a 90% decrease in air freight international shipping bookings and air freight revenue as a result the travel restrictions in different countries.
The disruption of the air cargo transport caused a drop in performance for commercial airlines and air freight carriers. The gap in
customer spending and supply required the application of a proper approach to tackle the problem of economic disruption. The humanitarian and relief shipments were common during the COVID-19 period. The recovery of the air cargo industry started due to the increase in the number of people purchasing goods online. The industries such as agriculture, manufacturing, and healthcare
required a quick mode of transport to handle the overwhelming customer demand. Airline cargo service providers optimized the increase in air cargo services by expanding solutions to the clients. The optimizing of domestic and international routes helped airline cargo service providers to attain the desired goals during the COVID-19 period and post COVID-19 era.
The current trends in air cargo and Air freight shipping show that clients opt for air transport to move high-quality and sensitive commodities within a short transit time. The US government has urged the use of measures that ensure air cargo help in fighting the pandemic. The Air cargo companies support the fight against COVID-19 due to the fast movement of vaccines and other essentials through air transport. Air cargo carriers are removing the passenger seating in the airplanes to accommodate resultant additional cargo. The movement of small and large packages by air cargo shipping is now common through the use of current trends of air cargo movement. Air cargo logistics providers focus on utilizing the available space within the aircraft to offer reliable services to the clients during the post- COVID-19 period. cargo service providers to attain the desired goals during the COVID-19 period and post-COVID-19 era.