Shipping to Benin with Ameritrans Freight International
Ameritrans Freight is the only one that completely understands shipping to Benin. We are dedicated in providing you with top-notch service for a portion of what the competition charges. For shipping items to Benin, we provide the best prices. If you need to send a cheap package to Benin, we can assist you in locating the most affordable shipping to Benin.
Our expert staff will work with you to customize the ideal shipping plan. Whether you are transporting goods or just a car to Benin, we offer the perfect plan for both yourself and your company.
We use our years of knowledge to guide you through the complexities of the international shipping community without any inconvenience. You can rely on us to ensure on-time delivery of your delivery when you require sending a package to Benin.
Shipping to Benin from the USA
With a good team on your side, shipping an item to Benin doesn't have to be problematic regarding forwarding and shipping from the US. Not all shipping firms are created equally. Nobody can match our expertise and quality when you must ship to Benin. We simplify freight shipment to Benin more than before.
None wants their cargo to end up in limbo because they choose an unreliable transportation company. Our friendly crew is skilled at navigating the intricate aspects of the global transportation industry. Allow us to help you avoid stress and save money. We provide the most excellent customer service and the most affordable rates for international delivery.
Cheap Shipping to Benin
Our shipping options to Benin are expanding daily. Due to this, we will continue to provide Benin rates that are among the lowest in the industry.
Use DHL Express, FedEx, or USPS to deliver your packages. Depending on the carrier you select, deliveries to you will take between one and three business days.
Documents for Shipping to Benin
It takes a lot of documentation to ship overseas, which is a complicated process. It is a lengthy and occasionally perplexing process. Ameritrans Freight generates the relevant papers for your shipping automatically. As a result, the process is quick and straightforward for you.
Container shipping cost to Benin from the USA
We provide the most dependable and easy shipping services at cheap pricing.
The services are;
Door-to-Door
Port-to-Port
Port to door
Door to port
Full Container Load (FCL) Shipping
FCL shipping is excellent for sending vast volumes of boxes, pallets, and other items that require a complete container shipping to Benin weighing up to 45,000 pounds.
It is an excellent option if your items are delicate and must be kept apart from others at the port. It also enables you to send large amounts of data simultaneously.
 Estimate of Full Container Load (FCL) Shipping costs
20 ft Container   $1650
40 ft Container   $1800
Less Container load (LCL) shipping to Benin
LCL shipping is a less expensive option for shipping less than container loads to Benin. This is a scenario in which your things are sent in the same container as others.
Shipping Costs for Less Than a Container (LCL)
LCL-$80/CBM
Household Goods-$700
Personal Effects -$400
Why are the transit times for FCL and LCL shipping different?
The FCL routes are simple. Once your goods are placed inside the container, it isn't opened or updated. It is instantly transshipped to the designated hub port, as agreed in your contract.
LCL shipping involves complicated processes such as dealing with multiple consignees, getting goods to various ports, and revising goods.
The factors that determine the cost of container shipping to Benin
Numerous defining criteria may impact your shipping choice and help you save money depending on the time of year.
The weight of your container
This is crucial for it to be safely mounted on the truck and minimize spillage. The container's maximum gross weight shall not exceed 67,200 pounds. During the packing process, our professionals will ensure you keep under the Benin shipping limitations.
Sticking to the cheap moving periods of the year is usually a good idea. A long peak season occurs in mid-August, followed by a shorter one in the middle of October. Because container stocks are all occupied during intense demand, you must pay significantly more than regular rates.
Distance
The cost per distance varies substantially based on where you transport products from and the type of containers you select. Moving 6,275 miles from the United States to Benin may range from $1,500 to $5,000.
Air Freight Shipping to Benin
It is a fast and dependable option for transporting various freight goods to and from Benin.
Air Freight Shipping to Benin Cost Estimate
Ideal for shipping boxes and pallets weighing 250 to 3500 lbs.
Minimum $90.00
+45 Kg      -$3.00 per Kg.
+300 Kg-$1.45 per Kg.
+1000 Kg- $1.30per Kg.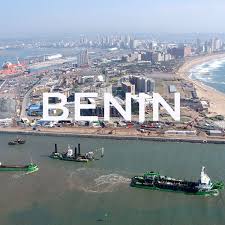 RORO shipping service is one of the most efficient  methods to ship a car from the United States of North America to Cotonou. This shipping service offers to send your vehicle to Cotonou port in Benin by driving it onto and off of the shipping vessel in the United States and rolling the car out to discharge the vehicle of the ship in Cotonou, with a low cost of transport, making this method one of the best to ship a vehicle from the United States of North America to Cotonou.
When you need to ship a wheeled vehicle from any port in the United States to Cotonou, such as a car, Sedan, SUV, motorcycle, motor home, camper, trailer, bus, construction vehicle, Heavy Equipment, Excavators, boat, this method is highly efficient and cost-effective, with the most reliable departure, transit time, and arrival dates to Cotonou from the United States. When shipping their vehicles internationally, new car manufacturers typically select this strategy.
Benefits of RORO Shipping service to Cotonou:
The following are the benefits of the  RORO Shipping service to Cotonou:
You can ship autos from a famous RO-RO port in the United States to Cotonou for a highly affordable price.
Non-runner automobiles can be shipped to Cotonou from the company and IAAI auto auctions using an exceptional RO-RO service.
Quick travel time for shipping an automobile to Cotonou Benin can be reached in 12 to 15 days by vehicle from Boston, the city of Providence, Newark, New Jersey, Wilmington, Baltimore, Savannah, Jacksonville, Florida, and Freeport, Texas.
The roll-on/roll-off local export charges and the destination Benin charges are cheaper than the container shipment of autos to Cotonou.
What rate is the cost of sending a car to Cotonou, Benin?
The cost of shipping your car to Cotonou, Benin, will vary depending on the type of vehicle, the size of the car, and the way of transport to the shipping port, such as whether you wish to ship the vehicle by container transportation or roll on roll off service (RO-RO). It ranges from $ 1000 to $1500.
However, these are not final prices because some factors may change the price you pay to ship a car to Cotonou, such as adding $175 for the Cargo Tracking Note that is required to send a car to Benin or if the vehicles are run&drive, non-runners, or require forklift service, which can increase the cost to ship a vehicle to Cotonou, Benin.
What is the transit time to ship a vehicle from the United States to Cotonou, Benin?
The typical transit time from the USA to Cotonou, Benin, is 2 to 6 weeks.
Estimated transit time to transport a car from the USA to Cotonou Benin
The average transit time, voyage, and vessel schedule to ship your vehicle via the United States to Cotonou Benin from all the major ports in the United States. Custom Fees when shipping o Benin
When you send goods to Benin, you must complete a customs form. You may find all the necessary details regarding your package on a customs form. This will cover the shipment's contents, the destination, and your primary shipping motivation.
Your taxes and whether you ship any illegal items will be determined using this information. Numerous factors are taken into account when calculating your taxes. Do you send goods to Benin for either personal or professional reasons? Are you transporting expensive goods? What is the current market value of the goods you are shipping? Shipping items for resale will result in more taxes than shipping items for personal use.
Shortest transit time for shipping a car from the United States to Cotonou, Benin.
Baltimore, Maryland, US, to the port of Cotonou, Benin, takes an average of 15 days. Also, the second fastest route is from Jacksonville, Florida, a loading port in the Miami zone, with an average transit time of 20 days to transport an automobile to Cotonou, Benin.
Longest transit time from North America to Cotonou Benin:
The route from Houston, Texas, via Freeport Terminal to Cotonou port has the longest transit time to send a car from North America to Cotonou Benin, with an estimated average transit time of 25 to 28 days. Also, the longest journey is from New York to Cotonou, Benin, where it takes an average of 22 days to deliver a car.
How to Ship Your Car to Cotonou Benin
Request a shipping quote from the US to Cotonou, Benin.
Select the most suitable shipping method to send your automobile from the United States to Cotonou based on your needs. The following ways to ship to Cotonou are available: Roll-on, roll-off, container shipping, sharing container delivery, or air freight to Cotonou are all options.
Provide the documentation to the shipping firm to book your car's shipment to Cotonou.
Send the car to the port or the export warehouse, where it will be exported to Cotonou.
Payment should be made to the shipping firm.
Deliver the authorization or invoice of lading to your Cotonou clearing agent, customs agent, or forwarding business.
Documents essential to ship a car from the USA to Cotonou Benin
Shipper name or company information in the USA
Consignee full name or company information, address in Benin, and contact number.
Freight Invoice from the USA to Cotonou from the Shipping company.
Certificate of origin for the vehicle.
The original state title of the vehicle is necessary to ship a car from America to Benin
Bill of sale of the vehicle or commercial invoice.
Vehicle information – Year, make model, shipping weight, and car dimensions.
Shipping to Benin Republic, west Africa lcl from Miami, Florida
The seaport of Cotonou in Benin is one of the busiest in the country for car imports from the United States. The most popular cargo exchange station in West Africa for containers, including automobiles, commercial goods, and household effects from North America.
Cost factors for shipping a car to Cotonou, Benin
The cost of shipping a car to Cotonou depends on the type of vehicle, the shipping dimensions and weight, the mode of transportation to the port of destination in Benin, the location of your car in the United States from where you intend to ship it to Benin, and the mode of transport you select.
Benin Import Tax
Using the CIF technique, Benin determines the import duty and taxes depending on the estimated value of the imported products as well as the cost of shipping.
Prohibited goods while shipping to Benin
Any country you export to has a forbidden items list, so you should be familiar with it. Despite their enormous variety, these are quickly investigated on their customs website. Your box will be confiscated, and, in some situations, you may face legal action if you deliver something on the restricted list. Researching and never assuming something is illegal will save you from this headache.
For instance, particular types of literature and even foreign calendars have been outlawed in some nations. The key is to remember that anything need not necessarily be dangerous or unsafe to be on a list of prohibited products. Politically restricted goods dominate the majority of certain nations' lists.
It is typical for immigration to delay a package's delivery when exporting from the United States to Benin. There is nothing you can do to stop it from happening, and there is no way to predict how long the wait will be.
To minimize customs delays that can cause you to be late for your expected arrival, the most effective thing you can do is ship your package as early as possible. Customs officers carry out specialized responsibilities in each nation.
When sending a container to Benin, begin with their official website before sending it. This can conserve both time and cash by keeping you from packing items that could cause delays or increase shipping costs. To offer you a better understanding, below are some examples of things you could not  transfer to Benin:
Examples of Prohibited goods while shipping to Benin
Bearer Documents
Bio Products
Chemicals
Corrosives
Cosmetics
hazardous materials as defined by the International Air Transport Association, or IATA
Flammables Gases,
Ice,
Infectious Substances,
Knives,
Liquor,
Magnetized Materials,
Oxidizers,
Paints,
Perfume,
Personal Effects,
Poisons,
Precious Stones,
Radioactive Products
Shipments requiring cold storage (no storage available)
Toiletries
How can you shop in the US and ship items to Benin?
Do you have a favorite brand of product that isn't sold in Benin? Are you discovering that many American retailers don't offer shipping to Benin? Remember that you can skip purchasing your preferred goods from Canada to the US. These items are available for online ordering and shipping to your home.
Ameritrans Freight is the solution to purchase and ship goods from the US to Benin. Buying and sending things within the US to Benin using Ameritrans Freight is simple.
FAQs
Can I use FedEx to ship to Benin?
FedEx does deliver to Benin. To calculate your shipping costs, use our shipping calculator tool. We use FedEx Economy, FedEx Priority, and FedEx Intl Connect Plus for all your shipments to Benin.
What is the cost of shipping from the United States to Benin?
Shipping products to Benin entails several expenses. Shipping costs vary depending on the service used, although it is only one element of the entire cost. Most items imported into Benin must also be subject to levies, duties, taxes, and other fees. There are some outliers, but these prices apply to most things. You may always use our shipping calculator to determine the cost of sending anything to Benin.
How long will it take to send an item from the United States to Benin?
You may have your cargo shipping  to Benin in 1-4 working days using the quickest courier services. If you select the cheapest courier service to Benin, they will try to get it in 4-7 business days. Although the shipping periods indicated are only estimates, consider that there could be delays owing to customs the process, public holidays, and Benin's large size.
Is insurance available for shipping to Benin?
Yes, every delivery to Benin is insured. We will safeguard your shipment and  also do everything possible to protect it in an emergency for a modest fee.
The product's worth determines the protection cost. A $3 insurance cost must be paid for every $100 value, although we can compute the cost associated with the value.
Can I use UPS to ship to Benin?
Yes, UPS can deliver to Benin. To calculate shipping charges to Benin, use the shipping calculator tool, which is situated at the top of the page
Request a Quote for all types of services you need to and from Benin through ;
TELEPHONE NO.: +1(800)-413-2452
EMAIL: anthony@ameritransfreight.com
Website: https://ameritransfreight.com
https://ameritransfreight.com/