10 Largest Ports in North America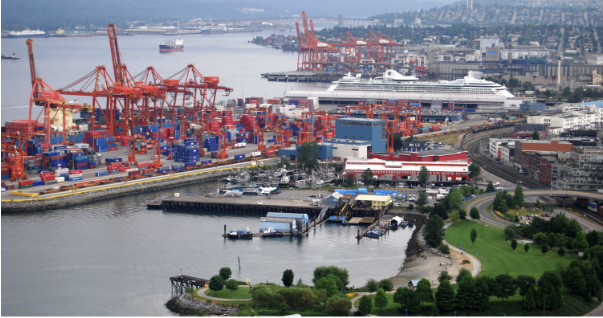 The following are the 10 Largest Ports in North America:
Los Angeles port.
Long of Beach port.
The Port of New York and New Jersey
Georgia Ports.
Port of Seattle-Tacoma.
Port of Virginia
Metro Vancouver Port
Houston port.
Port of Oakland.
FAQs
Ports are growth accelerators and handle essential items such as gasoline and food. They support hundreds of thousands of jobs and are important revenue generators for both the federal and state governments in North America.
The economic contribution of a port is determined by its size and the volume of goods it handles. As a result, our ranking of the ten largest ports. https://ameritransfreight.com/.in North America should be viewed as a list of some of America's and Canada's most important economic centers. 10 Largest Harbors in North America,  What are the 5  U.S. container ports. These questions are answered below
The Los Angeles Port(10 Largest Ports in North America)
The Los Angeles Port, also referred to as America's Port, is North America's largest Port. It manages 20% of all arriving freight for the United States and spreads out over 7500 acres. In 2019, it handled 9.3 million twenty-foot equal units (TEU). This is up 5.5 percent from the 8.8 million TEUs it handled the previous year.
The Port of Los Angeles location is in the San Pedro Bay of western US California.  Given its helpful location, it makes sense that it is in charge of most transpacific trade. The port, also known as America's Port. It occupies 7,500 acres of land with a 43-mile. Also it has waterfront that processed approximately 4.4 million TEUs in 2015. This represents 13.5% of the market share in North America. It has maintained its position as the top port in the US since 2000. About the volume of containers handled, it is the 19th busiest port in the world. Every day, freight is reportedly transported to and from the Los Angeles port. Worth an estimated $1.2 billion.
It has been the most important Port in the United States since 2000. Omit container volume, it is now ranked as the world's 19th busiest Port and biggest ports in us  There is anticipation of over $1.2 billion in cargo everyday. The operation is to and from the Los Angeles port.  It is among biggest ports in the us.
Port description.
The complex as a whole covers 30 square kilometers of land and 70 kilometers of shoreline. It
Two hundred seventy quays and 27 terminals are available at the Port.
In terms of container traffic, it is the United States largest Ports with around 9.7 million TEU in 2018.
The most frequent products arriving at the Port are;
Furniture,
Toys,
Footwear,
Apparel and also electrical equipment
The most exported goods include;
Soybeans,
Textiles,
Feeds,
Paper products and also scrap metal.
The Port's biggest cargo-shipping partners include ;
Thailand,
Japan,
Taiwan,
South Korea,
Taiwan, and China.
Long Beach Port(10 Largest Ports in North America)
Long Beach port is the second major Harbor on our list and is only 30 kilometers away from the Los Angeles Port. It was established in 1911 and is now one of the essential commerce routes. This was between Asia and North America. Long was one of the first to put in place friendly rules. The rules included the Green Port Policy, to lessen its environmental impact. The Port is more than 12 km2 in size. Eighty quays and 71 cranes handle container handling. It first opened its doors in 1911. The Port's key partners are States in Eastern Europe. Over 8 million TEUs were transshipped at the Port in 2018.
The Port is well-known for its policies and environmental stewardship. It is the most advanced Port in this regard.
Container transport to and from Long Beach is quite popular. Because it is one of the significant commerce gates to Asia.
When the U.S. Navy's engagement in the Port of Long Beach ended in 2001. The Navy gave the Port of Long Beach the last piece of property on Terminal Island. In 1997, the shipyard was shut
The environmental measures evolved in lockstep with the Port's rising vessel traffic. . By modernizing petroleum coke production, one of the Port's main exports.
The Port was able to minimize the amount of dust generated by petroleum coke. By 5%, compared to 21% in 1997, by adopting enclosed conveyors. Also covered storage facilities. It is among the 10 Largest Ports in North America
Port description
Long Beach is one of the main entry points for trade with Asia. Thus, shipping containers to and from there is very common. In 2015, it handled more than 4.9 million TEUs or 12.1% of the market in North America. Over a fifth of all container trade in North America handled them and the Port of Los Angeles together. The annual commerce movement at the Long Beach Port is about $180 billion.
This port processed massive amounts of cargo in 2019 in terms of tonnage and TEUs.
The port is a significant entry point for trade between the US and Asia. The port is a well-known environmental leader with cutting-edge initiatives. They includes the distinguished Green Port Policy.
With connections to 217 seaports worldwide, POLB has 22 maritime terminals. Six of them handle container ships
.This port exports ;
Cotton,
Beef
Consumables,
Large cereals,
Milk products,
Skins, and hides,
Among other things include; Drinks, alcohol, liquor, tinned and refrigerated seafood, as well as poultry, are all imported.
The Port of New York and New Jersey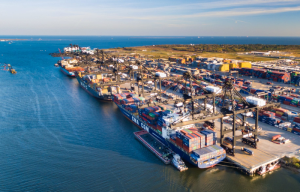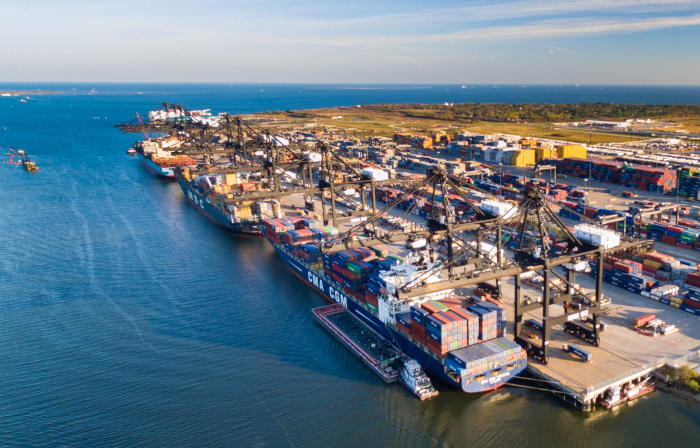 The Port of New York and New Jersey is the largest ports united states in East Coast's . It's also the country's third-largest transshipment port.
The Port is roughly 4 km2 in size. The complex authorities operate seven freight ports and several owned terminals. When it comes to reloading vehicles, the port complex is the best. It is also one of the most vital for reloading items such as bananas and cocoa. The New York & New Jersey Port imports plastic, vehicles, and beverages . Wood pulp, plastic, and machinery were the top export goods.
In 2015, the Ports of New York and New Jersey handled over 4.5 million TEUs. Accounting for roughly 11% of North American container throughput. The commodities handled are petroleum, scrap metal, bulk, and breakbulk freight. In 2018, the Port handled 7.1 million TEU in transshipments.
Year after year, the amount of traffic at the Port grows. Over 14 million cargo containerswere handled in 2019. Official trade report on the Port of New York and New Jersey conveyed cargo worth more than $80 trillion.
 Import and export
Scrap metal,
Breakbulk cargo,
Wood,
Beverages,
Automobiles, and gasoline.
Georgia Ports
Georgia's two major ports are Savannah and Brunswick. Savannah is home to the largest single-terminal container facility in North America. It is also the country's highest concentration of import distribution hubs. The main Port for new auto imports is Brunswick Port. It has roughly 500 acres of property leased or operated by the auto industry.
The USEC has the highest concentration of import distribution centers. In October 2017, container traffic increased by 32%. With the Garden City Terminal carrying 410,000 TEUs. an increase of approximately 100,000 TEUs.
Take the fourth spot on our ranking of the largest ports in North America when combined. The Port of Savannah has the country's largest single-terminal container facility. Brunswick is a hub for vehicle imports. with more than twelve auto manufacturers. Savannah alone has a container volume of 4.35 million TEU. Garden City (1200 acres) and Ocean terminals are Deepwater terminals (200 acres). Automobiles, heavy machinery, and agricultural products are examples of primary goods.
Seattle-Tacoma- Among the 10 Largest Ports in North America
The combination of the two Washington ports in 2014 gave birth to the Port of Seattle-Tacoma. It surpassed the third-largest cargo handling facility in the United States in 2015. The Port generated $9.7 billion in revenue in 2017, making it an essential part of the area's economy. The Port invested $500 million in Terminal 5 in 2019 to upgrade it. It has 3.7 million TEUs of container volume,4.2 million full containers. Oilseeds and cereals and machinery and computers are the primary exports.
The Northwest Seaport Alliance manages the ports of Seattle and Tacoma together. Seattle and Tacoma experienced their highest first-quarter international container volumes since 2005. in April 2017, there was to an increase in container traffic.
Agriculture is the main export . Toys, clothing, and equipment are among the imports.
Metro Vancouver Port
Vancouver is Canada's largest Port. Amalgamated with the North Fraser Port Authority in 2008 to establish Port Vancouver. It has 3700 acres. This makes it to be as large as Canada's following five major ports and is set to develop at a 3.5 percent yearly rate
Twenty-seven major marine terminals cater to five different industries.
Total number of vessels handled: 2677
5 million metric revenue tons of freight are shipped each year.
TEUs (twenty-foot equal units): 1.8 million
The annual freight value is 276 billion dollars
Fifteen thousand three hundred people got employment directly or indirectly.
Gross Domestic Product (GDP) Impact: $11.9 billion
Compared to last year, TEUs grew by 9.6% to a new high of 1.6 million. According to the mid-year data for 2017, trade increased by 4% to 69 million metric tons.
The Ports of Virginia
The Port of Virginia, one of the largest and busiest ports on the East Coast. It has grown at 2.6 percent per year over the past five years. With companies like Amazon and Navien establishing facilities in the state. The Port can only get busier.
The Port of Savannah is likely to enjoy the combined economies of scale . Regulators have approved the Georgia-Virginia agreement between the ports of Savannah and Virginia.
It has the following characteristics:
There are five major terminals.
85 million TEUs of container volume
Three hundred ninety-seven thousand people got employment directly> and indirectly
The Virginia Port Authority manages the Port of Norfolk, Virginia. In 1965, it was founded. The Port of Portsmouth has four terminals:
Norfolk International Terminals (NIT),
Portsmouth Marine Terminal (PMT),
Newport News Marine Terminal (NNMT), and Virginia International Gateway (VIG) in Portsmouth..
For ships carrying containers, the Norfolk terminal has five berths. The Port is continually growing and expanding its transshipment capacity. In 2018, the Port processed 2.8 million TEUs of cargo. It takes around 23 days to go from
Exports
Tobacco products, bulk grains, cereal, soybeans, and grain products.
Imports
Coffee, vodka, bitters, brandy, cognac, vegetables, and nuts .
Houston port
In 2016, the Harbor of Houston, Florida, was the Gulf Coast's largest Terminal. It processed 68 percent of all container traffic. With imports up 23% year over year through May and exports up 7% year over year through April. the Port of Houston should increase the rankings next year. Houston received new super post-Panamax ship-to-shore cranes, further boosting the Port's competitiveness. The Houston Ship Channel deepened to 45 feet. There was $1.6 billion investment by the Port of Houston Authority.
On Galveston Bay, the Port of Houston was established in 1909. Crude oil and derivatives, as well as organic compounds, are the principal exports. Imports include petroleum, associated products, iron, and steel. Mexico, Venezuela, Saudi Arabia, Iraq, and Algeria are the leading suppliers of goods. In 2018, the Port transshipped approximately 2.5 million TEU of cargo. Gdynia to Norfolk and 19 days from Norfolk to Gdynia.
The main exports from Houston are steel, metal, chemicals, and timber. However, petroleum, mineral goods, oils, and plastics are its main exports. Palm oil, ethanol, kerosene, juices, milk, and wine are examples of imports.
South Carolina ports- Among the 10 Largest Ports in North America
The South Carolina ports comprise Georgetown and Charleston. The Harbor's importance to South Carolina's economy can be gauged. This because it directly or indirectly supplies 10% of all jobs in the state. With incomes 32% higher than the state average.
The Port can handle bulk goods such as crude oil, coal, and steel. The Port was devastated during the civil war. It has been receiving funding since 1942. As a result, it has been progressively developing.
In 2018, the Port transshipped over 2.2 million TEU cargo.
Port of Oakland
The first container ship ports were constructed in this city. It was the first important Port on the Pacific Coast. The Port of Oakland is considered to be one of the top three West Coast gateways. The Port handles nearly all Northern California's containerized commodities.
1775 is the year that the first shipment arrives.
are shipped

each year.

Asia is the country with the most trade partners.
The Port of Oakland's loaded container volume is high. It handled a 99 percent of containerized products in and out of Northern California. In comparison to 2015, volume increased by 4% in 2016. Oakland is set to start building on the world's largest logistic hub. it will be within a U.S. seaport in the first quarter of 2018.
There are three container terminals. Also two intermodal train stations on the city's coastline. It will serve more than 14.5 million people and be able to reach 34 million people in less than seven hours by car.
Imports.
Clothes, consumer electronics, products, glass, and home goods.
Exports.
Dried fruits, nuts, wines, and  alcoholic beverages.
FAQs
1. What are the top five most significant ports in North America?
It is  roughly 30 kilometers south of the Los Angeles Terminal. It is North America's second-largest.  The Ports of New York and New Jersey, Norfolk , and Houston are the largest  on the East Coast.
2.Is your company involved in international trade between North America and other continents?
If that's the case, your cargo will almost certainly pass via these top-10 container ports. Apart from their economic importance to Canada and the United States, it's always beneficial to have a basic understanding of the facilities that will handle your maritime freight.
3. What is the East Coast's largest shipping port?
The Ports of New York and New Jersey are located in New York City and New Jersey, respectively.
The New York and New Jersey is the in East Coast. it is also the country's third-largest and busiest Port. Also it handles 7,585,819 TEU in 2020 and having a capacity of about 9 million TEU.
4. Why are 10 Largest Ports in North America essential?
Ports are important travel hubs that allow goods delivery to local &global markets. Our highway system, railroads, air transportation, and domestic maritime highways. Link commodities to consumers (water transportation routes). Seaports, as well as smaller intercoastal and interior ports. This help to ease the movement of goods between ports and neighboring villages.
Shipping is the practice of moving freight between different modes of transportation.. Ports work to increase internal capacity as trade expands by increasing efficiency. spending money on infrastructure that can serve larger ships. It may collaborate with cities, Metropolitan Organizations. State and federal Departments of Transportation. Also other organizations to increase transportation capacity outside the Port. This helps to avoid bottlenecks brought on by other forms of transportation
5. Where in North America is the primary container port?
It is the busiest international gateway in the Western Hemisphere. The Port of Los Angeles is a 7,500-acre land. It's water complex with 43 miles of waterfront. Its location is in San Pedro Bay.25 miles south of downtown Los Angeles.
6. How many seaports are there in North America?
Seaport activities generate millions of dollars in federal. Provincial, and local taxes. The U.S. Coast Guard estimates that 360 commercial ports serve the country. Many of them are capable of managing ocean-going cargo and barges. Also ferries, and recreation ships.
7. What are 10 Largest Ports in North America?