Freight shipping to Sierra Leone
Ameritrans Freight is the only one that fully comprehends shipping to Sierra Leone. Our company is committed to providing you with excellent service for a portion of what the competition cost of shipping to Sierra Leone. We also provide the most competitive prices for packaging for shipment to Sierra Leone. If you need to send a cheap package to Sierra Leone, we can also assist you in locating the most affordable shipping options.
Our knowledgeable staff will work with you to customize the ideal shipping plan. No matter what you are sending to Sierra Leone—freight or just a car—we have also the ideal plan for you and also your business.
With the aid of our extensive knowledge, we can also  guide you through the complexities of the global shipping industry without causing you any bother. You can rely on us to ensure that your delivery gets there on time regardless of whether you must send something to Sierra Leone.
Door-to-Door Shipping to Sierra Leone
We offer you services door to door shipping from the USA to Sierra Leone. Our team will pick up your items and drop them at the address available from you.
Cheap Shipping to Sierra Leone

Customs while shipping to Sierra Leone
There is requirement  to  complete a customs form when sending shipments to Sierra Leone. A customs form contains all the necessary details regarding your package. Include the contents of the shipment, the destination address, and also  the main reason for mailing it in the first place. This will be used to calculate your taxes and to see if you are shipping any illegal items. Several factors are taken into account when calculating your taxes.
Are you sending goods to Sierra Leone for either business or personal purposes? Sending out expensive goods? The products you are delivering have a financial value, how much? You will pay higher taxes than someone who is shipping something for personal use if you are shipping it for resale. Furthermore, There is  extra taxes if you ship costly goods.
Prohibited goods when shipping to Sierra Leone
Any country you export to has a forbidden materials list, so you should be familiar with it. Despite their enormous variety, these are  available on their customs website. Your box will be liable  and, in some situations, you may face legal action if you send anything that is on the restricted list. Doing your research and never assuming that something is illegal will save you from this type of problem.
For instance, particular types of literature and even foreign calendars have  being against the law  in some nations. The key is to remember that anything need not necessarily be harmful or dangerous in order to be on a list of prohibited products.
A significant portion of certain nations' lists are dominated by politically restricted items.
It is typical for customs to delay a package's delivery when shipping from the US to Sierra Leone. There is no way to stop it from happening, and  also there is no way to predict how long a delay will be.
To minimize any customs delays that can also cause you to be late for your  arrival schedule , the best thing you can do is ship your package as early as possible. Customs officers carry out special responsibilities in each nation
Cost of a shipping container to Sierra Leone
The carrier, service, weight, and size of your item will all have an impact on how much it will cost to ship from the US to Sierra Leone. For instance, it might only cost $10 USD to mail a small package weighing 1 lb. from the US to Sierra Leone. Larger products will typically cost more to send, but Ameritrans offers a variety of shipping choices to Sierra Leone depending on your timing and budget. Please request a quote instantly.
Factors Affecting Shipping Costs to Sierra Leone
Some elements will have an impact on shipping costs because they serve as  to determine freight shipment costs. As follows:
The dimensions and weight of the goods being shipped: Cost of shipping heavier goods will be higher than shipping lighter cargo. When transporting by air, this is especially true.
The method of transportation: Despite having faster delivery times, the air is more expensive, therefore this must be put  into account.
Distance: The fee increases with the amount of distance between you and the destination.
The last port of call: Each port has its own rules and restrictions, which may result in higher freight expenses.
The heaviest time: Sierra Leone's busiest shipping season is from May through September. The peak season can go into December because of Christmas. This time of year, could be more expensive for cargo shipment than other times.
Options of Shipping to Sierra Leone from USA
Most goods are transported to countries by air, sea, and land. The most common modes of importation for cargo entering Sierra Leone are by sea and air. When the cargo is being delivered door-to-door and is coming from a neighboring country, land transportation is used.
Sea freight shipments are the shipping option you choose if you have a lot of cargo. Cars, furniture, appliances, electronics, and also  food are frequently carried by water. It is vital to keep in mind that shipping by sea may take some time, so avoid using the sea if you have things that must be delivered quickly.
Container shipping to Sierra Leone

The shipping container  rates from your door in the USA to ports in Sierra Leone will be provided by the ocean freight calculator or by requesting it instantly.
FCL shipping
This  is recommended for moving a lot of boxes, pallets, and other items that require up to a 45,000-pound complete container to be shipped to Sierra Leone.
The cost of shipping containers to Sierra Leone estimates
20 ft. Container $1320
40 ft. Container $1580
Less than container load (LCL) shipping
LCL shipping is a more cost-effective method of delivering goods to Sierra Leone.
Rates for Less Than Container (LCL) Shipping
Furniture shipping from the US to Sierra Leone
Shipping Personal Items to Sierra Leone
LCL- $80/CBM
Personal Effects-$700
Household Goods- $100
shipping cars from the USA to Sierra Leone
RoRo and container ship services for international auto shipping to Sierra Leone. transport automobiles, trucks, SUVs, ATVs, boats, RVs, heavy machinery, and more.
Cost to ship SUV and Sedan to Sierra Leone estimate
Sedan via RORO $1210
SUV vía RORO $1315
Sedan (Container) $2150
SUV (Container) $2210
Cargo shipping to Freetown Sierra Leone
The best and most affordable air cargo services as well as sea cargo transportation are provided by Ameritrans freight to Sierra Leone. With the aid of our experts, you can export heavy machinery, spare parts, engines, tires, household goods, electronics, and bulk break as well as send cargo and  also break bulk to Sierra Leone. Call our customer service or request a quote to receive a price on shipping cargo by air or sea to Freetown, Sierra Leone from our affordable cargo service to Africa.
Airfreight services from the USA to Sierra Leone
When it comes to shipping fragile or time-sensitive commodities, air freight services are ideal. Even though air shipping is more expensive than sea shipping, it is better suited for little packages than marine shipping.
Shipping Documentation to Sierra Leone
The kinds of import documentation needed in Sierra Leone are determined by the goods imports  and the government's standard trade policy. The import items, multilateral, bilateral, or unilateral trade agreements, and the Sierra Leonean government's various trade policies all have an impact on the documents needed for import into Sierra Leone. However, these are the most typical paperwork needed for shipments outside of the country;
• Packing List
• Shipper's Letter of Instructions (SLI)
• Automated Export System (AES) Filing
• Certificate of Origin (CO)
• Commercial and Proforma Invoices
• Bills of Lading
• Incoterms
• Safety Data Sheet (SDS)
• Operational Instructions
• Shipping Under a Letter of Credit
Shipping to Sierra Leone from UK
Are you transporting goods from the UK to Freetown? Our shipping and international moving services to Freetown from the UK are available to students, tourists, families, and individuals. At Ameritrans Freight, we take pleasure in our exceptional client service.
When transporting goods to Freetown from the UK, we offer affordable freight options. Your possessions are safe with us because we have over 30 years of experience shipping items to locations all over the world. In order to deliver packages, personal items, extra baggage, luggage, or any size freight to Freetown securely and dependably, we offer a specialized service. Request a quote right away.
DHL, UPS, and USPS, shipping to Sierra Leone
We work with carriers like DHL, UPS, and USPS to make your packages delivered quickly to Sierra Leone. Depending on the package's length, width, and height, dimensional weight is computable. You will be chargeable for  a higher amount if the dimensional weight turns out to be greater than the package weight. Simply because of box size, a cheaper item can suddenly become expensive.
Shipping cars to Sierra Leone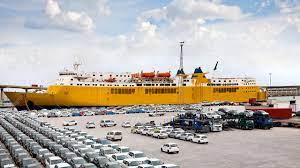 How Much Does It Cost to Ship a Car to Sierra Leone?
A car can be shipped to Sierra Leone for an average cost of $1142 to $1672.
10% duty and 12.5% VAT are the import fees for cars in Sierra Leone.
It is not possible to ship and import vehicles that are 10 years old to Sierra Leone.
The cost of shipping your automobile to Sierra Leone will depend on the type of vehicle you have, its size, and also  whether you want to ship it by container service or roll-on, roll-off (RO-RO) service from the shipping port.
These costs, however, are estimates; if the vehicles are run drive, non-runners, or require forklift service, for example, the cost of shipping a car to Sierra Leone may rise.
Shortest transit time to ship a car from USA to Sierra Leone
The route from Baltimore, Maryland, in the US to the port of Freetown, Sierra Leone, with the automobile Shipping firm overseas, with an average of 18 days of travel, is one of the quickest transit times to transport an automobile to Sierra Leone. Ameritrans Freight Shipping Line offers the next shortest route, with an average transit time of 20 days to Sierra Leone, departing from Jacksonville, Florida as a port of loading in the Miami zone.
Longest transit time to ship a car from USA to Sierra Leone
The route from Houston, Texas, via Freeport Terminal to Freetown, Sierra Leone, has the longest transit time for shipping a car from USA to Sierra Leone, with a typical transit time between 25 and  also 28 days.  Second-longest route, with an average transit duration of 22 days, runs from New York to Sierra Leone.
Documents needed to ship a car from the USA to Sierra Leone
• Shipper name or company information in the USA, address, tel#, EIN#/TAX ID#/ or foreign passport id.
• Consignee full name or company information, address in Sierra Leone, and also  contact number.
• Bill of sale, commercial invoice, tracing the seller and buyer transaction, value of the vehicle.
• Vehicle information and specs, Year, make model, full vin#, shipping weight, and dimensions of the car.
• Original state title of the vehicle, with seller info and buyer info, with no lien holder on it, or if there is a lien holder it will need to be stamped by the financial company that is making the reserve of the vehicle, if the title is not stamped and signed by the financial company you will need to request an original lien release letter from the Bank confirming the car is paid in full.
How to Ship Your Car to Sierra Leone
• Request a shipping quote from the US to Sierra Leone.
• Choose the best way of shipping to transport your car from the USA to Sierra Leone essential  on your needs. Roll-on-roll-off service, container shipping service, sharing container service, or air cargo to Sierra Leone are all options.
• To make a reservation to send your car to Sierra Leone, give the shipping company the necessary paperwork.
• Ship the car to the port or the export warehouse so that it can be exported to Sierra Leone.
• Make the necessary money for the shipping firm.
• Deliver the authorization or bill of lading to your clearance agent, customs agent, or forwarder business in Sierra Leone.
Shipping agencies to Sierra Leone
Ameritrans Freight cooperates with shipping agencies in Sierra Leone to give the best shipments and safe deliveries in Sierra Leone. These are;
• Destiny Shipping Agencies Ltd
• Universal Freight Organization
• Wilhelmsen
Find freight forwarding agents to help you at every step of the shipping process. Agents will be able to help you decide which mode of transport is the most cost effective and efficient for your business. They will liaise with organizations to coordinate your shipping through multi-staged processes that are designed for efficiency and smoothness. Ameritrans freight got your back!!!
FAQs
1. What Is the Time Frame for Shipping a Container to Sierra Leone?
Depending on the East or West Coast, it can take anywhere from 25 to 40 days.
2. What products am I not permittable  to export to Sierra Leone?
International trade is responsible  by a unique set of laws and regulations in each nation. If you are shipping goods to Sierra Leone, first visit the nation's official website. By not packing anything that can increase shipping costs or cause a delay, you will save time and money by doing this. You cannot transport the following products to Sierra Leone:
• Alcoholic drinks
• Chemicals, Hazardous and Safe Coffee
• Haz and non-Haz communications equipment, cologne, and perfume
• Components and pieces of computers
• Cosmetics, hazardous and non-hazardous drugs, and both prescribed and non-prescribed foods
• Phones/modems
• apparatus for tea telecommunications
3. Why do FCL And LCL Shipments Have Different Transit Times?
The container will not  be open once the goods are at place for an FCL transport. The shipping business will merely convey it to the specific destination. If there is no direct service between the sites, it might be handled
again at another port.
LCL shipments, on the other hand, are composed of a range of shipments from numerous consignees. There will be  shipping container examination and changing  at several ports due to the fact that it includes cargo from numerous people or businesses. Due to this, LCL shipments take more to reach their destinations than FCL shipments.
4. What Does Shipping from China to Sierra Leone Cost?
The cost of shipping a 40 HC container by sea from China to Sierra Leone ranges between USD 4000 and USD 5000.LCL shipment will cost between USD 15 and USD 25 per CBM of goods.
5. Can FedEx essential when shipping to Sierra Leone?
Any target country, including Sierra Leone, can be shipped to without difficulty. Any city or other well-known locations will receive your package thanks to our arrangements
Request a Quote for all types of services you need to Sierra Leone or Keep in touch with us through;
TELEPHONE NO.: +1(800)-413-2452
EMAIL: anthony@ameritransfreight.com
Website: https://ameritransfreight.com