Cargo shipping to the Caribbean
Shipping goods to the Caribbean islands might be complex, be it your first time or you do it frequently. Therefore, you should always work with a shipping company familiar with the region's company strategy, languages, and also customs laws.
Our services 
Ameritrans Freight shipping and logistics company services have helped many importers and exporters. This has strengthened their connections with their customers over the past 20 years. We can offer a variety of international transportation delivery companies to the Caribbean. Thanks to our knowledge and broad network of carriers.
We provide transportation services from door to port, port to port, and door to door to all the major Caribbean ports. Including Rio Haina, Caucedo, Havana, Mariel, Freeport, San Juan, and St. Maarten. Also, we create tailored shipping services for all types of goods. These are perishables, hazardous products, oversized shipments, and also specific ocean shipping solutions.
The Caribbean countries we ship to are;
Antigua and Barbuda
Barbados
Belize
Dominica
Grenada
Guyana
Haiti
Jamaica
Montserrat
Saint Kitts and Nevis
Suriname
Cayman Islands
Bermuda
Trinidad and Tobago
Turks and Caicos.
Curacao
French Guiana
Cuba
Saint Martin
British Virgin Islands
Caribbean Netherlands
S. Virgin Islands
Bonaire
Saint Lucia
Bahamas
Saint Vincent and the Grenadines
We can position a full-load container at the shipper's door. Accept the cargo in any of our facilities, and merge it into a container there. Also, we provide full container shipping service across the U.S. via various U.S. ports. We can provide our customers with total freight savings. This is by reducing the distance between the cargo's origin and the port of export.
Less than Container Load (LCL) shipping to the Caribbean.
If your shipment to the Caribbean can only fill part of the container, the best option is to use our ocean service. The volume of the consignment determines the cost of this service. But, weight-based pricing is used if the cargo is heavier than the allotted weight per cubic meter Less than a Container Load (LCL) is the best option if you need more cargo to fill a full 20- or 40-foot ocean container.
The least expensive option to carry loose cargo is via LCL freight. You can send smaller volumes of cargo at a lower cost. Also maintaining control and visibility over your shipment. This is by sharing space with other customers going to the same destination. We offer ocean mergers with fast transit times to ship LCLs to any location in the USA or the rest of the world.
When should I select LCL shipping?
Shipment Rate & Expense of Package
Vast quantities of weight may be carried by container ships. The freight traffic mainly determines the cost of an LCL shipment in cubic meters. But, a limit applies to the greatest weight shipped for every cubic meter. The consequence determines the appropriate fee. It happens if the cargo is heavier than the greatest weight permitted per cubic meter.
Volume
The price depends on how much room your shipment takes up in an ocean container. As a result, decreasing the size of your LCL cargo will enable you to cut shipping costs. LCL shipping can be the best option if your package is heavy and has a limited volume.
Dangers for Goods Protection
LCL freight involves more excellent handling of your cargo. It raises the possibility of loss or damage during transit. Thus, it is always advised to use proper shipping packaging. Also for supplemental cargo insurance.
FCL – (Full Container Load)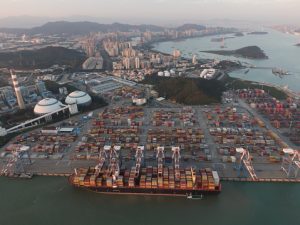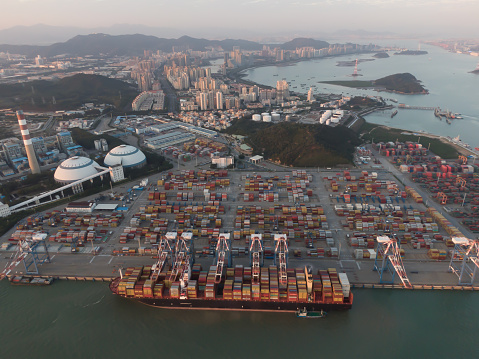 We provide 20- and 40-foot full container loads of shipping services to the Caribbean. If you need open-top containers, flat racks, reefers, or other equipment to manage the cargo. Our specialized equipment division will present you with the best possibilities. The safest way to ship your cargo is as a full container load (FCL). You gain unique access and more control over the packaging and security of your shipment. This occurs when you fill an ocean container with your goods. The FCL shipping service section can accommodate any type and size of container. Or unique transportation to suit your need. Our consultants will consult with you to choose the correct dimensions and kind of container for your particular needs. Ameritrans Freight makes a concert choose the option that best satisfies your company's demands. This is when it comes to container mode, shipment expense, shipping route, and transit durations.
When should I ship using FCL?
Any form of commercial goods, perishable goods, home items, heavy-lift equipment, cars, and all types of packaged & crated cargo can be shipped easily using full container loads. Even though their goods fill the container, many importers choose FCL over LCL for many reasons:
Shipment Quantity:
FCL shipping is the best option if your cargo weighs more than 10 CBM because the LCL pricing technique may result in higher shipping costs.
Goods Safety
FCL shipping lessens the chance that your goods will be damaged, and using your container exclusively prevents your cargo from being managed by a recipient.
Fast Freight
By choosing our Full Container Load solutions, you are free from relying on the LCL shipping service's departure schedules, which occasionally may only be weekly or monthly. Also, compared to most LCL shipping services, we provide many more locations with our FCL shipping service.
RoRo shipping to the Caribbean
The most affordable and secure method of shipping cars and large machinery to the Caribbean is roll-on/roll-off. When you use RORO or a modular transporter to tow your cargo, your cargo is easily driven onto and off a particular vessel. Despite the size and kind of your static or wheeled load, we can RORO ship it to the Caribbean.
Car Shipping & RORO Services
Car shipping using RoRo is the quickest and least expensive way to export a car abroad because it requires little lifting and doesn't require bracing or blocking to fit into a container.
Your car will be secured to the decks and made wind- and waterproof once driven into the RORO vessel. We offer door-to-door and port-to-port shipping services for any vehicle rolled onto and off a ship. It comprises;
Automobiles, trucks,
Semi-trucks,
Construction equipment,
Tractors,
Trailers,
Mobile homes,
R.V.s,
Caterpillars,
Backhoes,
Bulldozers,
Railroad wagons,
Yachts,
Sailboats, and also a wide range of other vehicles.
There are no high haulage or container charges with RORO, shipping is always safe.
Breakbulk / Project Cargo Shipping to the Caribbean
This is the most excellent option for exporting cargo to the Caribbean that is too huge or hefty to fit into regular containers. When you must convey an out-of-gauge load that must be handled manually instead of in a container onto an ocean vessel, our Project Cargo team has the essential skills to prepare every aspect beforehand.
Why Choose Breakbulk / Project Cargo Shipping Solutions?
Breakbulk cargo shipment is typically utilized in large-scale projects or sectors that require the transportation of heavy machinery and bulky goods.
They include, among other things, the enormous construction, mining, oil and gas, and energy sectors. Products frequently carried via breakbulk include wood, raw metal, paper pulp, high-load machinery, and power generation and refinery equipment.
The following benefits of using this heavy-weight transportation method:
• Enables heavy industries and power generation businesses to relocate massive machinery.
• Allows products to enter less developed ports;
• Keeps goods separate (and ordered) when they are efficiently utilized that way at the desired location.
Airfreight shipping to the Caribbean


We provide airport-to-airport, airport-to-door, and door-to-airport services as a part of our air freight solutions. Also, we offer safe and dependable airfreight services to the Caribbean for all your air transportation requirements, including high-value and time-sensitive commodities.  We handle the complete logistics chain from when your goods are picked up until it reaches their destination, managing your shipments from beginning to end.
What goods may I export to the Caribbean?
Regarding shipping packages, the Caribbean is subject to the same laws as any other nation. Certain goods are categorically forbidden. Others can be classified as restricted or dangerous items so that you can ship them. Still, you must adhere to specific guidelines and present additional documentation. You may see a list of the goods that can be delivered to the Caribbean with dependable shipping firms below.
• A set of automobile components
• Furniture
• Items for the body and mind
• Goods for the house
• Documents
• Collectables and books
• Accessories for clothing
• Cameras
• Dietary supplements and dry food
• Electronics and computers
Prohibited goods to the Caribbean
• Animals
• Money
• Dangerous items
• Drugs \firearms
• Loose stones made of ivory
Rates for shipping to the Caribbean 
The price of sending your shipments to the Caribbean is one of the aspects that will assist you in choosing what courier service to hire. When estimating the cost to send an item, remember that a few variables may impact the rates the Caribbean shipping companies will charge. Among these elements are:
• Types of goods
• Container size
• Weight in dimensions
• Destination
• Timeline for delivery anticipated
Customs for Shipping to the Caribbean.
The process of sending goods or shipments to the Caribbean is the same as sending them anywhere in the world. This is remarkably accurate regarding following rules and regulations, paying taxes and charges, and correctly completing the necessary documentation.
When exporting to Jamaica or another Caribbean nation, one benefit of hiring a trustworthy courier company is that they frequently manage everything related to customs, especially taxes, and charges. We provide various services to handle customs procedures for any country, including those of the Caribbean.
Considerations before Sending a Shipment to the Caribbean
There are a few crucial things you should be aware of in addition to the previously mentioned details regarding transporting products to the Caribbean using shipping firms. These are a few recommendations we've made.
• Find shipping firms you can rely on that provide delivery services with many features.
• Specify your shipment's exact weight and dimensions for the most accurate rates.
• Compare the value-added services that shipping firms offer.
• Don't sacrifice service quality for the price; prioritize quality over affordability.
• Think about insurance.
Caribbean shipping duration
Geographically speaking, the USA and the Caribbean are close to one another. As. For customers seeking an expedited delivery, DHL Express can also be scheduled.
Also, we provide inexpensive delivery, a low-cost tracked postal service created for cheaper cross-border shipping, and Ups ordered via our shipment calculator at a discounted rate for sending to the Caribbean. Although this service's delivery timeframes are considerably longer than an express courier, it is the ideal option for people looking for the lowest cost and who need to send low-value, non-urgent items.
Shipping rates from the United States to Jamaica
| | | |
| --- | --- | --- |
| Shipping routes | 20ft container | 40ft container |
| Houston, Tx – Kingston | $ 1,725 | $ 2,095 |
| Baltimore – Kingston | $ 1,520 | $ 2,400 |
| Long Beach – Kingston | $ 1,345 | $ 2,020 |
| New York – Kingston | $ 1,530 | $ 2,350 |
| Norfolk – Kingston | $ 1,620 | $ 4,440 |
| Oakland-Kingston      | $ 1,750 | $ 2,870 |
| Los Angeles – Kingston      | $ 1,320 | $ 2,460 |
| Savannah- Kingston | $ 1,342 | $ 2,350 |
| Freeport -Kingston | $ 1,850 | $ 2,350 |
| Charleston – Kingston | $ 1,450 | $ 3,450 |
| Boston – Kingston | $ 1,250 | $ 2,420 |
| New Orleans – Kingston | $ 1,800 | $ 2,335 |
| Charleston – Kingston | $ 1,765 | $ 2,245 |
Transit time for shipping rates from the United States to Jamaica
The route Oakland – Kingston, with an average transit time of 37 days, has the longest transit time for shipping a container to Jamaica. Most extended ways, with average travel times of 35 days each, are Long Beach to Kingston and also Los Angeles to Kingston.
Shipping to Bahamas and Barbados from the USA
The Bahamas is an island of 700 species, ten large islands, making shipping to this location more expensive.
You've come to the perfect location if you're looking to ship cargo to the Bahamas and Barbados. You may send a parcel to any site in the Bahamas with the aid of Ameritrans freight. To get a quote you have the pick-up zip code, destination port, the mode of shipping, and the type of cargo you are likely to ship to get an accurate quote from our shipping calculator, or you can request a quote directly through email or website.
Most affordable method of shipping to the Dominican Republic, Guadeloupe, Martinique, and St Lucia
Want to ship goods from the U.S. to the Dominican Republic, Guadeloupe, Martinique, and St Lucia? You're lucky because Ameritrans freight can help you compare shipping prices from several couriers to the Dominican Republic to find the cheapest deals.
With over 10 million people and the largest economy in the Caribbean, the Dominican Republic, the volume of goods we see transported from the U.S. to Santo Domingo and other destinations is enormous.
The good news is that our shipping calculator gives you fast rates from reliable shipping providers in just a few clicks, allowing you to compare costs, transit times, and bookings.
Shipping from the U.S. to Trinidad and Tobago
Do you need to ship to Trinidad & Tobago? To provide the cheapest shipping rate to your destination, Ameritrans Freight will help you compare shipping prices to Trinidad and Tobago from various companies.
We provide various delivery services to Trinidad and Tobago, enabling our clients to save money on cargo shipping.
Request a Quote for all types of services you need to the Caribbean countries or Keep in touch through;
TELEPHONE NO.: +1(800)-413-2452
EMAIL: anthony@ameritransfreight.com
Website: https://ameritransfreight.com/
FAQs
Which island in the Caribbean is the safest?
St. Barts is the safest island in the Caribbean. However, Anguilla, the Cayman Islands, and the Virgin Islands are reasonably secure Caribbean vacations. Remarkably, despite being a well-liked vacation spot, the Bahamas are also one of the Caribbean's most dangerous islands.
2. Why is shipping in the Caribbean so costly?
The Caribbean islands are among the more difficult places to mail packages. Even though the U.S. and Mexico are close, shipping there is often more expensive due to the absence of daily flights to numerous Caribbean islands.
3. What are the Caribbean's main ports?
Kingston, Freeport, Bahamas; Port of Spain, Trinidad and Tobago; Caucedo, Dominican Republic; Panama and Colombia are important to rival hubs in the Caribbean.
4. Which port in the Caribbean is the biggest?
The total volume of cargo handled is referred to as throughput. Ports in Cristóbal and Manzanillo are partially included in Colón, located on Panama's Caribbean coast. Panama's Pacific coast is also indicated by the port of Balboa, which also houses Rodman port.
5. Is Jamaica a part of the Caribbean?
The largest English-speaking Island in the Caribbean Sea is Jamaica, the third largest island in the Caribbean. Jamaica is around 146 miles long.  51 miles broad, and also has 4,411 square miles. It is located 90 miles south of Cuba.  600 miles south of Florida in the United States, and also 100 miles southwest of Haiti.
https://ameritransfreight.com/international-shipping-to-the-Caribbean/ ‎