Shipping to the DR Congo from the US
The Democratic Republic of Congo (DRC)  commonly known as DR Congo is Africa's second-largest country and is located in Central Africa. It's bordered by four countries and has a 20-mile coastline on the Atlantic. It is, therefore, considered predominantly landlocked. We have made shipping to the DR Congo from the US, Shipping containers, Container Shipping to Congo simple and affordable.  Main Sea port DRC are Matadi and Boma.
The DRC is rich in natural resources and has a massive export portfolio. With the coming of the age of e-commerce, the DRC has not been left behind. Congolese in the country and in the diaspora use platforms like Ameritrans to import goods for their own use or to sell.
Wherever you wish to ship your freight to, we have boots on the ground to ensure they arrive at the doorstep and Sea port DRC
Ameritrans Shipping Advantages, Shipping to the DR Congo
Save on shipping costs by using LCL shipping. You can share the space in a container with other importers, thereby cutting the cost drastically.
Constant communication from our office We have dedicated customer care to handle any queries as they track your freight and inform you of its movement.
Door-to-door delivery We understand Africa and are able to get your items to your point of delivery without any errors or mistakes.
We have offices in Africa with local employees who understand the technicalities of freight movement in an African context.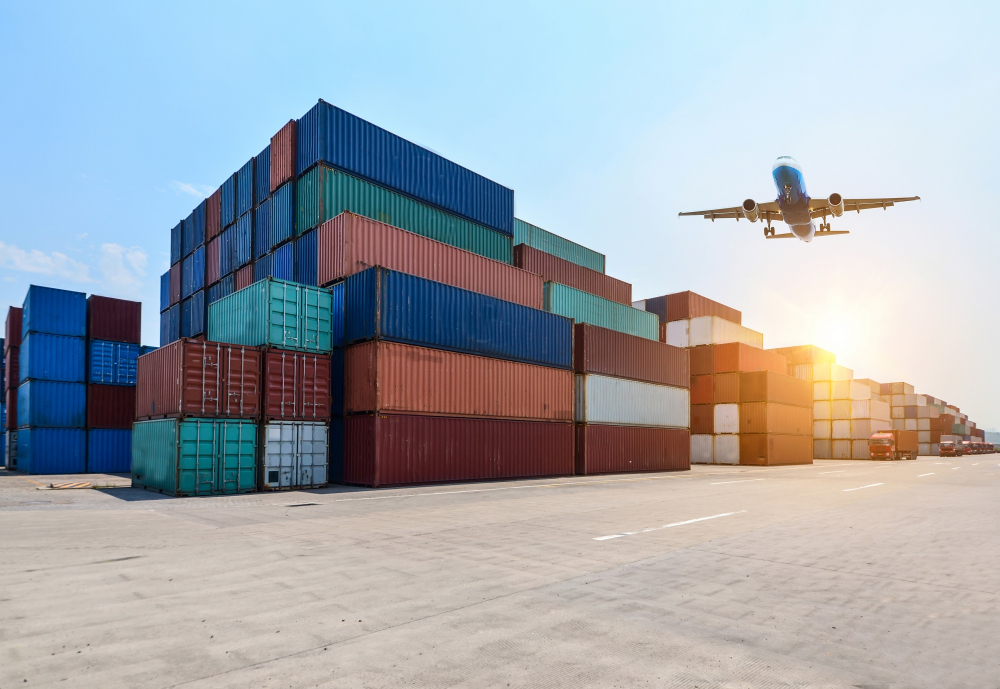 Air freight from the USA to the DRC
Even though air freight is the most expensive way to ship, it is also the fastest and safest. This makes it a good choice for goods like:
high-value items
Fragile items
Temperature-sensitive items
Live animals
Time-sensitive letters and parcels
There are two main airports in the DRC: the N'Djili International Airport in Kinshasa and the Goma International Airport in Goma, DRC. Air Cargo Shipping to the DR Congo is now affordable
The sea and ground Freight, Shipping to the DR Congo
Sea freight is the most affordable and accommodates freight that is high volume or oversized. The cargo ships land at the Port of Mombasa in Kenya or the Port of Dar es Salaam in Tanzania. When the freight lands, they are picked up by truckers or are taken by rail until they arrive at the city of destination, where you're notified to pick them up. Doorstep delivery can be organized from that point as well.
We have a robust team in our offices in Mombasa who waste no time loading your freight onto trucks to go to the major and small cities all over the DRC. Shipping to the DR Congo, Shipping containers to Congo, Container Shipping try us.
We reach:
Lubumbashi
Kisangani
Masina
Mbuji-Mayi
Likasi
Kolwezi
Tshikapa
Kananga
Boma
Bukama
Bunia
Bukavu
Aba
Bagata
Ango
Baraka
Beni
Isiro
Kabinda
Kalemie
Butembo
Gandajika
Goma
Inkisi
Kikwit
Lukula
Rutshuru
Kamina
Uvira
Yangambi
Mangai
Matadi.
Mwene-Ditu
Prohibited Goods 
Military samples
Ivory
alcoholic beverages containing more than 45% alcohol
Sweeteners Saccharin, Dulcin, and Sodium Cyclamate are used in foods and beverages.
bearer documents
Asbestos
Furs
Pornography
Acids
Food originating in Japan
Jewelry
Ice (dry, wet, or blue)
Corrosive materials
Metals
Tobacco products
Stocks
Pharmaceuticals with expiration dates within the next two years
Customs and taxes on imports, Shipping to the DR Congo
The DRC calculates duties and taxes using the CIF method, which is based on the value of freight and total cost of import. Container Shipping simplified.
Current duties:
20%
Mobiles, tablets, computers, cameras, accessories, watches, audio, video
Health and beauty, fashion,
Home Décor, Luggage
Toys, sports
6%
Jewellery
12%
Pet Accessories, Dry Food & Supplements
14%
6%
1%
0%
Use the Ameritrans Calculator by filling in the required details to get a quotation. We can offer competitive pricing because we have a rich network of relevant companies.
Shipping documentation from the USA to the DRC
Shipping to the DR Congo and Shipping containers to Congo documentation and form-filling is drudgery for many. But not to worry, we've got you! We will advise you on the required documents and how to fill them in.
Process pre shipment inspection with BIVAC, which is the DRC's authorized agent. This is done for freight worth $2,501 and above. Get a BIVAC certification.
Commercial Invoice This document details the value, quantity, and price of the freight.
Tax Documents & Shipping Labels
Packing lists
Bills of lading/air waybill
Import license
Invoice pro forma
The U.S. shipper's export declaration
An insurance certificate
Types of shipping from the US to the DRC
FCL (Full Container Load): This is used when you've ordered enough goods to fill a container. Shipping containers to Congo explained
If your goods can not fill a whole container, you will share space in the container with other exporters and only be charged per cubic meter you occupy.
Ro-Ro ( Roll on, Roll off) shipping to ship wheeled cargo
Breakbulk and oversized cargo shippers If your cargo can not fit in a regular container, we have a service of splitting the excess, which will be packed in smaller holders like boxes, bags, or barrels. We also transport oversized goods such as large machinery.
Shipping from the US to Matadi Port
Matadi is the main seaport of the Democratic Republic of the Congo. It's on the bank of the Congo River. Matadi is the capital of the Kongo Central province. Container shipping at its best.
The Matadi Port is linked with Kinshasa by paved road and by railroad. It is also a terminal for the railway that connects the two towns.
In recent years, the DRC has worked to modernize its infrastructure to expand its capacity in order to reduce dependence on neighboring countries.
Ameritrans can get your freight straight into the DRC through Matadi.
Kinshasa Sea port DRC,
Kinshasa port is situated in the capital city of the DRC. Its location is important because it enables the processing of goods that have arrived for clients in Kinshasa. It links directly with the main port, Matadi Port, through rail and road.
Port Boma Ro Ro, Sea port DRC
Boma Port is on the right bank of the Congo River, around 90 km from the Atlantic coast. It's the second largest maritime port after Matadi. The port is specialized in vehicle imports. If you'd like to ship a vehicle of any kind from the US to the DRC, it would be processed and delivered at Boma Ro RO port.
Shipping a car from the US to the DRC
Whatever type of motorized cargo you would like us to ship, we are ready. Be it ATV's, Cars, Trucks, Motorcycles, Vans, Tractors, Boats, Buses, Trailers, RV, Military, or Coaches.
We use:
Ro-Ro shipping
Container shipping Documentation or car import from the US to the DRC
1. Free admission certificate
2. Electronic Cargo Tracking Note (ECTN), or Bordereau Electronique de Suivi de Cargaison (BESC).Taxes
1. a 2% tax based on the value of a car.
2. Import assurance tax of 0.8%You will receive your car at any of the three ports: Matadi, Boma, or Noire; conduct clearance with a local customs officer and take your vehicle away.
Why trust Ameritrans Shipping To DR Congo from the US?
1. Expert team
We are passionate about freight and are highly skilled and organized. Our teams are on the ground in Africa and understand the required documentation that will help avoid delays or complaints. Our teams have a great relationship with customs in all the ports that serve our customers shipping to=the DRC.
2. Effective communicators
Your peace of mind is our pleasure. We are always on call to quell any fears or dispel any doubts. You can call us or email us whenever. We will keep you updated from the point of pickup to the point of delivery.
3. Transparency
All our partners are licensed and hold the required permits to conduct business on our behalf. For instance, we lay bare any potential risk and advise accordingly. For instance, we will advise on the type of insurance to buy in order to protect your freight. We also inform you in case any hidden or unforeseen fees pop up. Shipping to the DR Congo and Container Shipping explained.
What we will do for you as you ship from the US to the DRC
1. We handle packaging requirements. Depending on the type of freight, we will package it to avoid breakage, damage, or contamination.
2. Advise on the legality or illegality of the type of freight you intend to ship.
3. Negotiate pricing with brokers and shippers to offer you the most cost-effective price.
4. We book shippers and organize for pick up.
5. We advise on the best insurance to buy.
6. We process documentation.
7. We track your freight.
8. We will communicate with you when the freight arrives.
9. We process the clearing of freight at the destination point.
Bottom line
Ameritrans offers an extensive range of services and couriers to the Democratic Republic of Congo. We are tried and tested and have emerged as a leader in freight forwarding globally. We pledge to hold your hand from the point you engage us in an inquiry to the final point of delivery. Container Shipping To DR Congo is our expertise to reach Sea port DRC
FAQs
Shipping to the DR Congo
1. Can you ship to the Congo?
Yes. You can ship via air, ground, or sea. There are two international airports and three marine ports. There is also a robust road and rail network within the country.
2. How much does it cost to send a package to the Congo?
This varies depending on the value of the freight and mode of shipping. Air freight is the most expensive, while sea shipping is the cheapest. Use the Ameritrans calculator to get  Shipping containers to Congo  instant quote.
3. What are the main imports into the Democratic Republic of Congo?
The main imports are textiles, foodstuffs, fuel,  and machinery.
4. What is the main export from Congo?
The main exports are copper, cobalt, and gold.